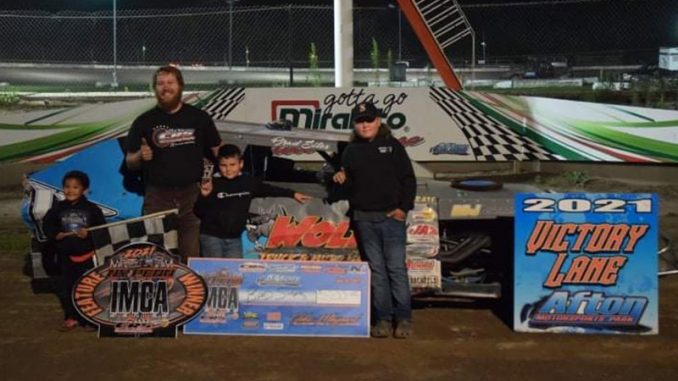 By Todd Burgess 
AFTON, N.Y. (July 30) – Brad Sites overcame another bad draw to become the first repeat winner in the NY-Penn IMCA Modified Series Friday at Afton Motorsports Park.
The 25-lap main event had Joe Novak and Rodney Morgan lead the field to green as series point leader Sites took the initial green from the ninth starting spot. Novak jumped out to the early lead but it was short-lived as he pushed wide out of turn four on lap three and Rodney Morgan was right there to grab the top spot.
Just as the pass was made, the caution flew which resulted in Keith Jack Lamphere starting at the rear of the field on the ensuing green as Sites had already moved up to sixth.
As the engines roared once again, Aaron Benjamin began to pressure Morgan for the top spot as Sites and Lamphere continued to pluck their way forward. By lap 11, Benjamin had claimed the top spot and Sites had worked his way squarely to Benjamin's back bumper as the caution waved again.
Lamphere was running fourth on the ensuing restart, which proved to be a breath taker as Benjamin bobbled a bit off turn two and by the time the field exited turn four they were four-wide for the race lead, with Benjamin, Sites, Morgan and Lamphere all looking to take the helm headed into turn one.
Sites took advantage of the preferred line and gained command as he barreled off turn two with Benjamin and Lamphere closely in tow.
By lap 16, Sites was still at the front by three car lengths when Lamphere made the pass for the runner-up spot, setting up for a duel between the two top point runners in the closing laps.
Just as it looked like Sites would ride his big lead off into the night sky, the caution flew again at lap 21, which drew the field back together for the restart.
As the green dropped for the final time, Sites kept his machine locked to the bottom lane for the final five laps, taking the checkers over Lamphere and Logan Terry at the stripe.
The NY-Penn IMCA Modified Series next heads for Penn Can Speedway in Susquehanna, Pa., on Sunday, Aug. 15.
Feature results – 1. Brad Sites; 2. Keith Jack Lamphere; 3. Logan Terry; 4. Rodney Morgan; 5. Aaron Benjamin; 6. Eddie Sites; 7. Bill Nichols; 8. Joe Novak; 9. Tyler Stoddard; 10. Lance Conley; 11. Matt Benjamin; 12. Oliver Gage.