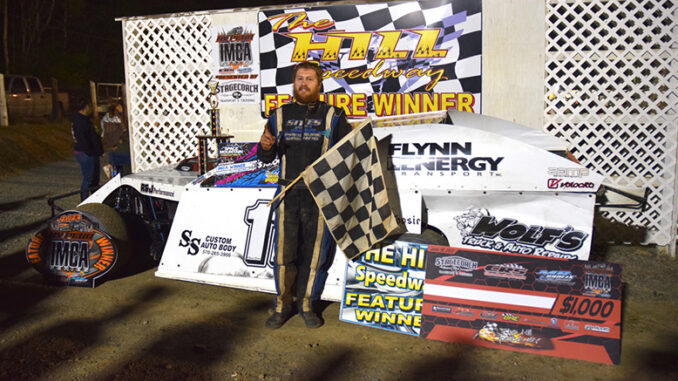 By Michael Benjamin
MONROETON, Pa. (June 30, 2023) – Brad Sites didn't let anyone stay close the last four times around the track in winning the Friday night Close Racing Supply NY-Penn IMCA Modified Series presented by MR Grafix main event at The Hill Speedway.
Sites' first Friesen Performance IMCA Modified tour win of 2023 paid $1,000 and earned Fast Shafts All-Star Invitational qualifying eligibility for the 2021 series champion as well.
Rodney Morgan, Gary Roberts, Matt Benjamin and Keith Lamphere completed the top five. Roberts picked up the Flow Force Pressure Services Hard Charger award after coming from the 13th starting position.
The show at Monroeton saw 20 drivers vie in a 25-lap feature and Clayton Tarabori and Gary Lamphere brought the field to green. Tarabori led the first three circuits before giving way to Jake Maynard.
Maynard, in turn, held the point until Sites motored past on lap 10.
The final caution of the night bunched up the field with just four laps to go. Rodney Morgan found himself in the runner up spot and gave Sites some pressure when the green flag flew again but the leader pulled away from that point.
Sunday's show at Bradford Speedway was lost to inclement weather. Next up for the NY-Penn Series is the third annual Billy Maynard Memorial at The Hill on July 14.