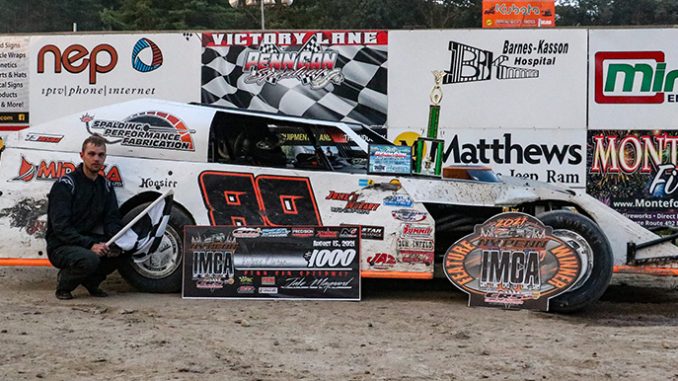 By Evan Canfield
SUSQUEHANNA, Pa. (Aug. 15) – In a season filled with highs and lows, Rodney Morgan finally found some redemption at Penn Can Speedway.
After destroying his car in the season opener at the same facility, he was able to come back to the Susquehanna oval and capture his first NY-Penn IMCA Modified Series victory on Sunday, earning $1,000 and Fast Shafts All-Star qualifying eligibility.
Aaron Benjamin and J.W. Lamphere set the pace for the 25-lap feature but the start was anything but smooth. A single car spin, a stack-up at the rear of the field and a multi-car pileup set the tone for the opening laps, with three consecutive cautions keeping the race from getting underway.
Once under the green flag, Benjamin jumped out to an early lead. While trying to hold control of the race, multiple yellow flags would hurt his momentum. He led up to a lap 13 restart, where a bobble in the opening corners opened the door for Morgan to slip by and take the top spot.
Benjamin settled into second with a swarm of cars hot on his tail.
Morgan then set sail with the lead, while Benjamin lost the second position to Michigan invader Jeffrey Reay in the closing laps. Heat race winner Ray McClure and series season opener winner AJ Ward would both find incidents, keeping them from solid finishes.
As the laps came to a close, Reay got a few chances to try to make a pass on Morgan on restarts.
Those attempts came up empty as Morgan held on to score his first series victory. Reay settled for second while Benjamin held on for third.
The next $1,000 to win race for the NY-Penn IMCA Modified Series will be at the recently revived Bloomsburg, Pa., Fair Speedway on Sunday, Aug. 22.
Feature results – 1. Rodney Morgan; 2. Jeffrey Reay; 3. Aaron Benjamin; 4. Brad Sites; 5. Keith Jack Lamphere; 6. Jake Maynard; 7. Brad Smith; 8. Eddie Sites; 9. Oliver Gage; 10. Shawn Bruce; 11. J.W. Lamphere; 12. Mark Griffin; 13. Rick Watt; 14. Joe Novak; 15. Mike Stoddard; 16. Randall Paxton; 17. A.J. Ward; 18. Ray McClure; 19. Bobby Maynard; 20. Rich McNeal; 21. Lance Conley.