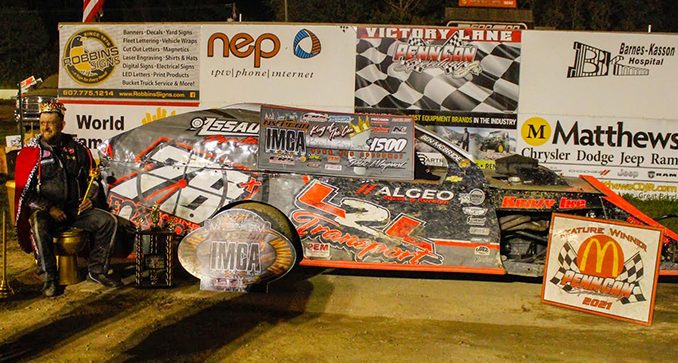 SUSQUEHANNA, Pa. (Sept. 25) –  A visitor from Michigan stole the show and captured the King of the Can title as a cool, fall-like night in Northeastern Pennsylvania set the scene for a fantastic finale in the Close Racing Supply NY-Penn IMCA Modified Series.
Brody Bowser led every lap in winning the main event and $1,500 while Brad Sites put the final touches on the inaugural series crown despite late mechanical issues that resulted in a DNF Saturday at Penn Can Speedway.
Eddie Sites, Ray McClure, Tyler Stoddard and Bobby Maynard completed the top five.
After a few tries to get the first handful of laps in, the field got strung out and got some laps under its collective belt and put on some good racing from second on back as Bowser put a good gap between the pack and himself. Randall Paxton followed him in second.
Eddie Sites battle Paxton until a caution on lap 14 for fourth place runner J.W. Lamphere who got into the backstretch wall. The 16th starting McClure found himself working his way up to the top five through the cautions and the green flag run, then into fourth following a caution.
On that restart, Eddie Sites got around Paxton, who was starting to develop some mechanical woes as the race went on. Another caution bunched the field up around lap 19 as point leader Brad Sites came to a complete stop on the exit of turn four and saw his night would come to an end on the business end of a tow truck.
Paxton was next to exit with mechanical issues and one last caution bunched the field up one last with two laps to go.
Bowser got a great start and stayed in front to the finish as Eddie Sites and McClure battled it out for the runner-up spot.
Winner of the Great Lakes Nationals in his home state earlier this month, Bowser was already eligible to qualify for the Fast Shafts All-Star Invitational.
Feature results – 1. Brody Bowser; 2. Eddie Sites; 3. Ray McClure; 4. Tyler Stoddard; 5. Bobby Maynard; 6. Sonny Terry; 7. Matt Benjamin; 8. Oliver Gage; 9. Rodney Morgan; 10. Keith Jack Lamphere; 11. Mike Stoddard; 12. Lance Conley; 13. Aaron Benjamin; 14. Brad Smith; 15. Randall Paxton; 16. Rick Watt; 17. Brad Sites; 18. J.W. Lamphere; 19. Logan Terry; 20. Joe Novak; 21. Bill Nichols; 22. Jacob McConnell.