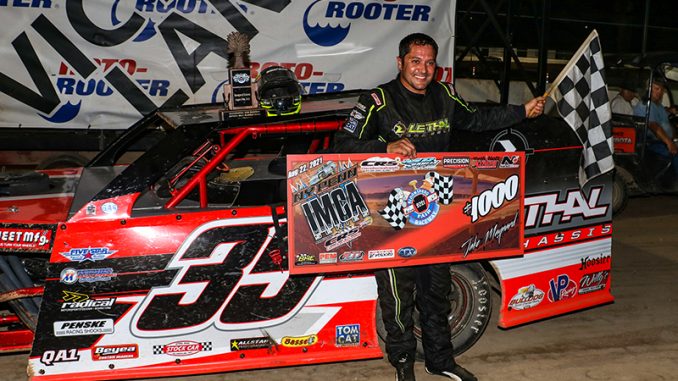 By Evan Canfield
BLOOMSBURG, Pa. (Aug. 29) – The NY-Penn IMCA Modified Series made its first trip to the historic Bloomsburg Fair Raceway on Sunday night, marking the first time the division turned laps at the Pennsylvania oval for the sixth race of the 2021 season
With four different winners in the first five races, coming to a new venue would be anything but predictable. One thing that nobody predicted was seeing hotshoe David Stremme of Mifflintown try his hand at trying to claim the $1,000 payday.
At the conclusion of the night, he would make the trip worthwhile, earning both the grand and Fast Shafts All-Star Invitational qualifying eligibility.
Rodney Morgan started the 25-lap feature from the pole, with Logan Terry to his outside. When the race went green, Morgan took off with Jake Maynard settling into second and Keith Jack Lamphere taking third.
Drivers jockeyed for position early before the field was reshuffled on lap three for a multi-car pileup in turn one brought out the red flag. All cars continue once everyone was aimed the right direction.
Michigan driver A.J. Ward found the turn one wall on the restart, ending his day. Once racing resumed, Morgan continued to lead as Lamphere slipped to his rear bumper with Stremme working his way to third.
Morgan jumped out to the lead after a couple more restarts. Stremme made quick work of Lamphere and set his sights on the back of Morgan's white no. 89 machine. After a few laps of wheel-to-wheel racing, Stremme got by Morgan on the low side on lap 13 and from there set sail.
Although the race was slowed by a lap 17 caution, nothing would be able to slow Stremme as he pulled away from Morgan and Lamphere to score the first-ever IMCA Modified victory at Bloomsburg Fair Raceway. Point leader Brad Sites came home fourth with Shawn Bruce rounding out the top five.
The seventh and final race of the season for the NY-Penn IMCA Modified Series will be at the Penn Can Speedway in Susquehanna, Pa., on Sept. 25th for the King of the Can.
Feature results – 1. David Stremme; 2. Rodney Morgan; 3. Keith Jack Lamphere; 4. Brad Sites; 5. Shawn Bruce; 6. Jake Maynard; 7. Eddie Sites; 8. Ray McClure; 9. Tyler Stoddard; 10. Logan Terry; 11. Sonny Terry; 12. Victor McNeal; 13. Keith Lamphere; 14. Mike Stoddard; 15. Aaron Benjamin; 16. Rick Watt; 17. Matt Benjamin; 18. Mark Griffin; 19. Lance Conley; 20. A.J. Ward; 21. Brad Smith; 22. Jacob McConnell.