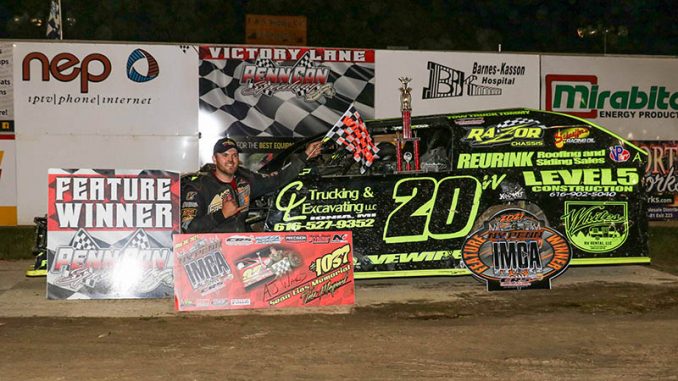 By Evan Canfield
SUSQUEHANNA, Pa. (June 1) – After opening night of the NY-Penn IMCA Modified Series was postponed two days, a Michigan driver making the 10-hour tow won the inaugural Sean Lias Memorial at Penn Can Speedway and $1,037.
A.J. Ward, a three-time champion in the Dirt Works East Region, raced his way back to the front in winning the inaugural event held in honor of the eight-time regional champion from Pennsylvania.
"This is the first memorial event that I've won," Ward said following his ninth checkers of the season and career 128th victory. "It was special that this race was for Sean, with the history he had."
The win was also Ward's career first in Pennsylvania. He'd won sixth of seven New York starts and now owns wins in seven of eight trips to the East Coast.
"Those guys treat me pretty good over that way. They're good people," said Ward, who also pocketed $200 in random draw lap money and was already a Fast Shafts All-Star Invitational ballot candidate. "We'd made up our mind to go on Monday and watched some races from there on YouTube but what really helped was Google Earth. We figured out it was similar to Skyline Raceway and went with a similar gear to what we won there with in 2016."
Ward had started fifth and quickly began a battle with Brad Sites for the lead, running the top while Sites powered the bottom. They ran side-by-side until contact on lap seven sent Sites spinning and both were Ward were sent to the back of the field.
On the restart, a bold move by Rodney Morgan took him to the lead. As the laps clicked off, Morgan continued to lead but with 10 laps to go, slowed with a flat tire, stacking up the field behind him. The end hand the lead back to Shawn Bruce with Ward and Sites already in hot pursuit.
Ward used the top side in turns three and four to take the top spot, checking out and scoring the win. Bruce followed him across the line while Sites ran out of laps but rounded out the podium.
"I was watching the Sportsman feature and it didn't really seem like they were getting good drive on the bottom. I set it up for the top because I figured everybody's going to go to the bottom," Ward said from victory lane.
"We broke a left rear shock about halfway through and it was a crazy, different feeling entering," he continued. "As soon as I let off the gas, it wanted to slam right down and spin me out so I kind of had to relearn how to drive the car. I just kept picking them off on the top. I was so, so happy to pull it off."
Bruce was happy to walk out with a runner-up finish.
"It was an up and down battle. The car got better on long runs and then we had a few cautions in there. I just didn't have anything for A.J. at the end when he got on the top side," said Bruce. "I got beat by the master. That's all I can say. This guy's real hot out in Michigan. We were out there and raced against him a few weeks ago and he won that show. One of these days we're gonna' get him."
Less than ideal weather had forced postponement of the Sean Lias Memorial from May 30.
Feature results – 1. A.J. Ward; 2. Shawn Bruce; 3. Brad Sites; 4. Chance Allen; 5. Randall Paxton; 6. Eddie Sites; 7. Aaron Benjamin; 8. Matt Benjamin; 9. Tyler Stoddard; 10. David Scouten Jr.; 11. Joe Novak; 12. Rick Watt; 13. Rodney Morgan; 14. Mike Stoddard; 15. Lance Conley; 16. Keith Jack Lamphere; 17. Oliver Gage; 18. Keith Lamphere; 19. Brody Bower; 20. Brad Smith; 21. Jeff Austin.