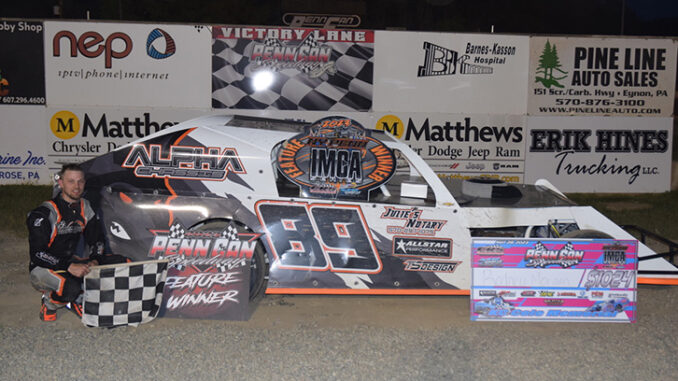 By Michael Benjamin
SUSQUEHANNA, Pa. (May 28, 2023) – The day's racing at Penn Can Speedway set up to be a great one and proved to be just that for Rodney Morgan.
The Mainesburg speedster got the best of his Close Racing Supply NY-Penn IMCA Modified Series presented by M.R. Grafix foes in the inaugural KC Cole Memorial event, earning $1,024 and Fast Shafts All-Star Invitational qualifying eligibility for his efforts.
Veteran Shawn Bruce jumped out to the early lead, followed by Rich Michael Jr. and Eddie Sites, already a two-time series winner this season. Bruce held the lead for 17 laps until bringing out the caution in the second set of turns.
Bruce's misfortune gave the lead to Sites, with Morgan to his outside on the restart. Morgan then slipped back to third as Brad Sites moved up.
Eddie Sites continued to lead as the rest of the top four battled behind him.
Coming to two laps to go, Morgan found himself in second. Eddie Sites took the white flag and going into turn one, Morgan hit the high side as the leader bobbled coming through turn two.
Morgan got by for the lead and came out with the KC Cole Memorial win, followed by Eddie Sites in second and Brad Sites, Michael and Tyler Stoddard rounding out the top five. Jacob McConnell scored the Force Flow Pressure Service Hard Charger award, coming from the 13th starting spot to finish sixth.
Brad Sites won the KC Cole Dash 4 Cash race for an extra $124.
The NY-Penn Series for Friesen Performance IMCA Modifieds travels to Bloomsburg Fairgrounds Speedway on Thursday, June 8. This race is always highly anticipated as it always brings good racing action for the IMCA Modifieds.