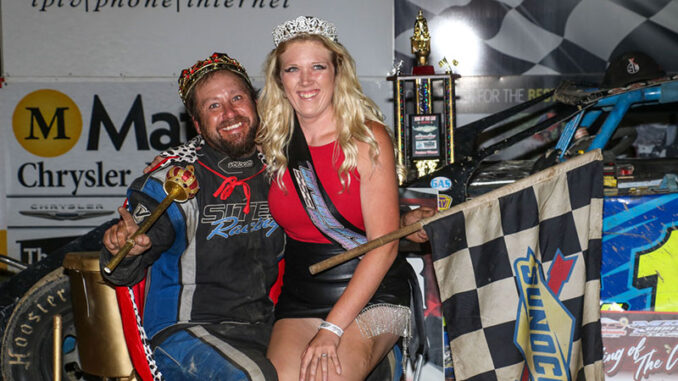 By Evan Canfield 
SUSQUEHANNA, Pa. (Sept. 17, 2022) – Eddie Sites reigned when the Close Racing Supply NY-Penn IMCA Modified Series presented by Precision Hydraulic & Oil made its return Saturday for the King of the Can at Penn Can Speedway. 
Rich Michael Jr and Tyler Stoddard kicked off the 25-lap, $1,000 to win feature for Friesen Performance IMCA Modifieds from the front row, but the red flag would be displayed before the end of the first lap for a multi-car incident.
Sites was part of that pileup and grabbed back onto the field in the eighth position once the lineup was reset. Michael then took off from the top spot, with Stoddard trying to stay close.
It didn't take long for Sites to prove why he's had the car to beat for much of the season as he charged to second by the time the caution flag flew again on lap four.
Sites took a look at every angle possible to make the pass for the lead following the ensuing restart. As the leaders battled, lapped traffic would come up quickly in the form of Rick Watt, who was making his first series start of 2022.
Watt lost the handle of his brand new machine in turn three, leaving nowhere for leader Michael to go, ending the night for both drivers and handing the lead over to Sites.
Sites would take off, leaving Tyler Stoddard to hold off the challenges of title contenders Rodney Morgan and Keith Jack Lamphere behind him. Stoddard held his own until Morgan made his way by, nearly a full straightaway behind Sites.
A caution on lap 15 gave Morgan the opportunity he needed to chase down his fellow Pennsylvania contender. For the final 10 circuits, Morgan applied pressure but Sites left Morgan behind and scored his sixth victory of the year, with Stoddard holding onto a podium position in third, followed by Lamphere and Randall Paxton.
Feature results – 1. Eddie Sites; 2. Rodney Morgan; 3. Tyler Stoddard; 4. Keith Lamphere; 5. Randall Paxton; 6. Matt Roberts; 7. Gary Roberts; 8. Aaron Benjamin; 9. Jake Maynard; 10. Jacob McConnell; 11. Shawn Bruce; 12. Lance Conley; 13. Jason Sullivan; 14. Jacob Ingham; 15. Brad Sites; 16. Ray McClure; 17. J.W. Lamphere; 18. A.J. Hunsinger; 19. Tyler Belcher; 20. Bob Maynard; 21. Rich Michael; 22. Rick Watt.