By Ranai Toler
AZTEC, N.M. (Sept. 15-16, 2023) – The regular season has ended and champions were crowned at Aztec Speedway.
On Friday night, Hunter Ferrell claimed the checkered flag in the IMCA Sunoco Hobby Stocks followed by John Thomas, Kyler Duggins, Mylee Goldwich-Rhames and Mark Weber.
Camron Spangler took the checkers in the Friesen Performance IMCA Northern SportMods followed by Julie Keeler, Rayce Green, Waylon Hale and John Patterson.
Katie Barthel finished first in the Mach-1 IMCA Sport Compact feature followed by Cody Witcher, Ted Neergaard, Jesse Stuckman and Abbi Barthel.
Jeramy Hughes moved up five spots to take the win in the IMCA Sunoco Stock Car main, followed by Steffan Carey, Eric Loyd, Darell Cordary and Allen Bradley.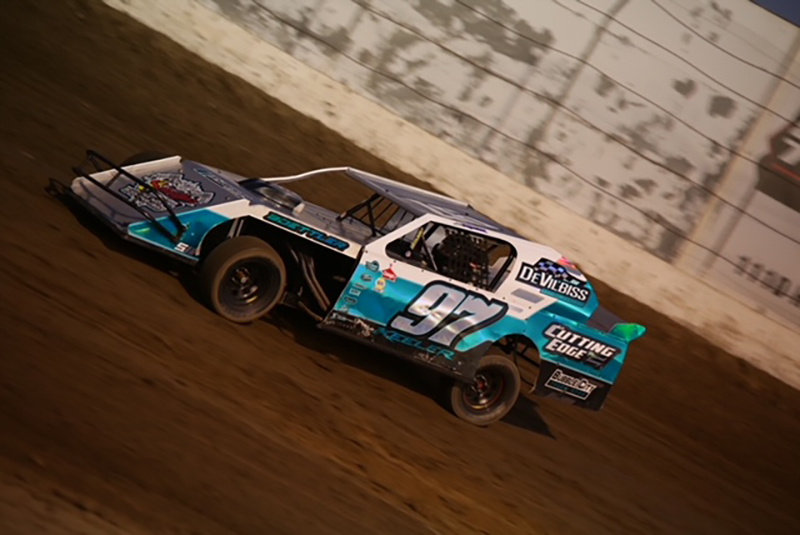 Julie Keeler was the Friesen Performance IMCA Northern SportMod winner in the final points race of the season at Aztec Speedway. (Photo by Ranai Toler)
On Saturday, Duggins found the checkers first in the Hobby Stocks after a lap two wreck, followed by Ferrell, Thomas, Goldwich-Rhames and Weber.
Keeler took the checkers in the Northern SportMods followed by Camron and Aaron Spangler, Green and Jimmy Wilson.
Barthel raced to another Sport Compact victory followed by Witcher, Jayden Small, Abbi Barthel and Neergaard.
Stock Car checkers flew for Carey ahead of Hughes, Loyd, Nathan Lemons and Cordary.
2023 track champions are Keeler, Northern SportMods; Ferrell, Hobby Stocks; Katie Barthel, Sport Compacts; Carey, Stock Cars; and Julian Garcia Sr., Friesen Performance IMCA Modifieds.