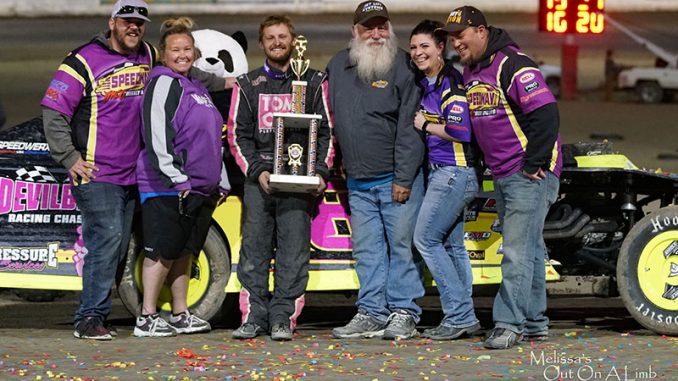 AZTEC, N.M. (May 3-4) – The opening weekend of the Wild West IMCA Modified Tour was guaranteed to be one for the history book, and two drivers that already had their name written all over that volume added new chapters.
Ricky Alvarado, a three-time champion during the tour's inaugural 2007-2014 run, extended his WWMT career wins best total to 32 with the Friday checkers at Aztec Speedway.
And Zane DeVilbiss, the 2010 champion, earned his career 13th victory in the 100th event in tour history Saturday at the New Mexico speedplant.
Both events paid $1,000 to win. DeVilbiss and Justen Yeager completed Friday's top three while Alvarado was runner-up and Yeager third again on Saturday.
Alvarado started 10th in the opening night 25 lapper and took the lead from familiar tour foe Yeager with 10 circuits to go.
"It's nice to have the tour going again. It's been a long time since I've been that pumped up and it felt really good to win the first time back," the new Fast Shafts All-Star Invitational ballot qualifier said. "It took us a while to get going but we were able to make the top work."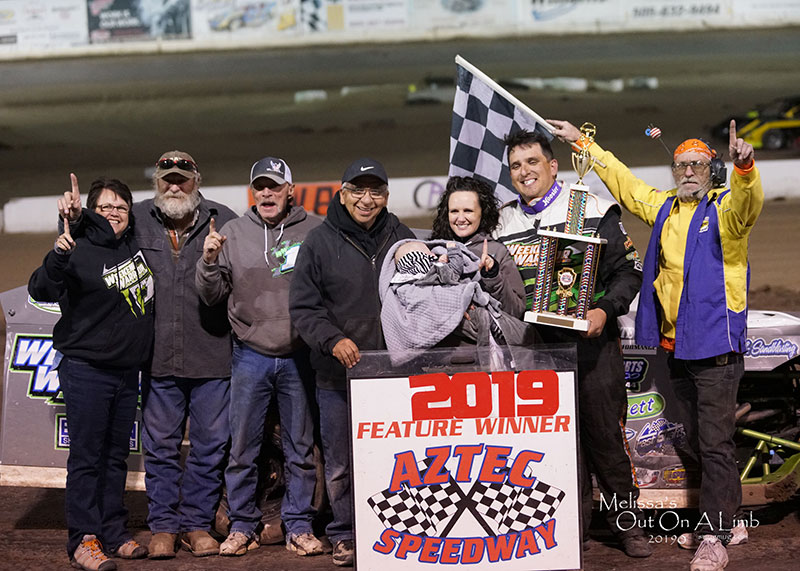 "Aztec is a nice facility and always has a good racing surface," added Alvarado, who's followed a part-time schedule the past few seasons due to work and family. "They gave us a good track we could be aggressive on."
The Friday checkers were Alvarado's tour career fifth at Aztec. DeVilbiss had three second-place finishes but no wins in 10 previous tour starts at the tour track closest to his house.
"The whole weekend was cool. It was cool to get the win in the 100th tour event and it was cool to get the win at Aztec," DeVilbiss said. "We haven't always had a lot of luck there."
DeVilbiss put finishing touches on his car in time to get to the track on Friday and raced his way to second from 11th starting. He tinkered with the setup, started outside pole and led all 25 laps on Saturday.
"The outside was the place to be. The cushion was really good," said DeVilbiss, a two-time national champion, the defending champion in the Larry Shaw Race Cars Western Region and already a Fast Shafts All-Star candidate. "The track was amazing both nights. You could race anywhere."
After three early restarts, the feature ran green the last 17 laps. DeVilbiss negotiated traffic much of that distance before taking the history-making win.
Heavy hitters also prevailed in first-ever Wild West Tour features for IMCA Sunoco Stock Cars and Karl Kustoms Northern SportMods.
Aaron Spangler and Allen Bradley were Stock Car winners, with Steffan Carey the runner-up both nights.
Northern SportMod winners were Camron Spangler and Rex Higgins.
May 3 Feature Results
Modifieds – 1. Ricky Alvarado; 2. Zane DeVilbiss; 3. Justen Yeager; 4. Michael Hale; 5. Regan Tafoya; 6. Jake Donnelly; 7. Chase Hansen; 8. Braxton Yeager; 9. Christian Johnson; 10. Dan Lee; 11. Bert Beech; 12. Josh Cain; 13. Wade Taylor; 14. Bryan Wordelman; 15. Richard Anderson; 16. Matt Ratzlaff; 17. Kenny Vollmer; 18. Lakota Cleveland; 19. Heath Denney; 20. Daniel Waldemar; 21. Mike Yost; 22. Dereck Rhoden; 23. Brody Spangler; 24. Mike Magee
Stock Cars – 1. Aaron Spangler; 2. Steffan Carey; 3. Dillion Lawrence; 4. Allen Bradley; 5. Gene Henrie; 6. Ed Henderson; 7. Race Fisher; 8. Jason Josselyn; 9. Grayson Denney; 10. Traci Bradley; 11. Steve Livingston; 12. Shaun Wright; 13. Aspen Russell; 14. Nina Esquibel; 15. Travis Sutherlin; 16. Beau Hutchison; 17. Nugget Shupe; 18. Shawn Parish; 19. Clint Rapier; 20. Racely Card; 21. Tony Hill; 22. Levi Card; 23. Robert Reed.
Northern SportMods – 1. Camron Spangler; 2. Mark Rodgers; 3. Joey Klemish; 4. Rex Higgins; 5. Brian Carey; 6. Matt Ruff; 7. Ed Gilbert; 8. Shane Simper; 9. David Pitt; 10. Darrel Cordary; 11. Chris Frisbie; 12. Christina Ratzlaff; 13. Cody Malcom; 14. Shane Waybright; 15. Jimmy Wilson; 16. Kendra Vollmer; 17. Wayland Duncan; 18. Jerry Hislop; 19. Slade Pitt; 20. Troy Householder; 21. Jon Hammond; 22. Travis Poll; 23. Morris Duncan; 24. Cody Taylor; 25. Verlon Lee; 26. B.J. Haslam.
May 4 Feature Results
Modifieds – 1. DeVilbiss; 2. Alvarado; 3. Justen Yeager; 4. Donnelly; 5. Johnson; 6. Spangler; 7. Tafoya; 8. Taylor; 9. Braxton Yeager; 10. Hansen; 11. Rhoden; 12. Wordelman; 13. Magee; 14. Lee; 15. Ratzlaff; 16. Anderson; 17. Denney; 18. Vollmer; 19. Waldemar; 20. Yost; 21. Hale; 22. Cleveland; 23. Beech.
Stock Cars – 1. Allen Bradley; 2. Carey; 3. Spangler; 4. Levi Card; 5. Henrie; 6. Lawrence; 7. Sutherlin; 8. Henderson; 9. Traci Bradley; 10. Hutchison; 11. Livingston; 12. Reed; 13. Shupe; 14. Wright; 15. Hill; 16. Racely Card; 17. Josselyn; 18. Parish; 19. Fisher; 20. Denney; 21. Russell.
Northern SportMods – 1. Higgins; 2. Klemish; 3. Simper; 4. Carey; 5. Ruff; 6. Cordary; 7. Hislop; 8. Malcom; 9. Randy Dorsett; 10. Morris Duncan; 11. Vollmer; 12. Frisbie; 13. Wayland Duncan; 14. Ratzlaff; 15. Waybright; 16. Hammond; 17. Haslam; 18. Wilson; 19. Householder; 20. Rodgers; 21. Spangler; 22. Slade Pitt; 23. David Pitt.