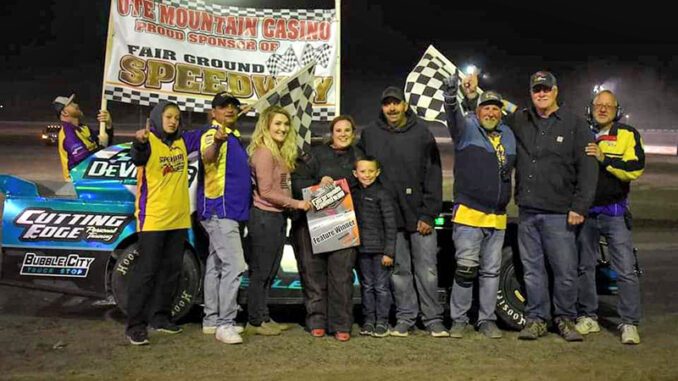 FARMINGTON, N.M (Aug. 9, 2023) – She's proven herself at tracks closer to home for close to a quarter century.
Next, Julie Keeler looks to do the same on the biggest stage in IMCA and in all of dirt track racing.
The veteran from Farmington, N.M., brings her Friesen Performance to Boone for the first time in September, looking to race her way into Saturday's Big Dance at the 41st annual IMCA Speedway Motors Super Nationals fueled by Casey's.
"Definitely, a spot in the main event is what I'm racing for," said Keeler. "With the caliber of competition in the Northern SportMods, making the main event would be a victory for me."
"It would be number one on my list of everything I've done in racing," she continued. "Then I'd have to back it up next year to prove it wasn't a fluke."
A former Smiley's Racing Products IMCA Southern SportMod state champion in both New Mexico and Colorado, Keeler was runner-up in national standings for that division in 2014. She's looking to repeat as track champ at Aztec Speedway and New Mexico state champ in a Northern SportMod this season.
"I was about 14 years old when I started racing a mini stock at Aztec, got into an IMCA Stock Car around 1998 and then a Southern SportMod in 2009," said Keeler, raised in a racing family. "I took the 2015 season off for the birth of my son Kyle (named for Kyle Larson, of course). When I got back into racing it was in a modified, and I've been in an IMCA Northern SportMod since 2019."
"I like the speed of a Northern SportMod and we have a lot of good competition in our area," she adds. "The handling is very different than a Southern SportMod so I've had to learn how to drive the car differently. You've really got to finesse it."
Keeler has made one previous trip to Super Nationals as a spectator but otherwise has followed the action green to checkered on IMCA.TV. Her 17-hour pre-Labor Day Weekend tow will first take Keeler to Denver, then across Nebraska and finally to Iowa's Action Track.
"We have been really consistent so far this season," said Keeler, who has a win and another eight top five finishes to show for her 12 starts so far. "I'll be 40 years old this fall and I've raced for 25 of those years. One thing I like being able to say is that there are a lot of people out there who don't have a hobby they did for their entire life. I have, and I think it's brought out the best in me."
"I've always been competitive and I've always raced to win. I enjoy knowing that I can do it."
Two hundred and seventy-three different drivers have qualified for the main event since Northern SportMod main event since the division was added to Super Nationals in 2005 and Keeler will be contending to be the first from New Mexico to do so.