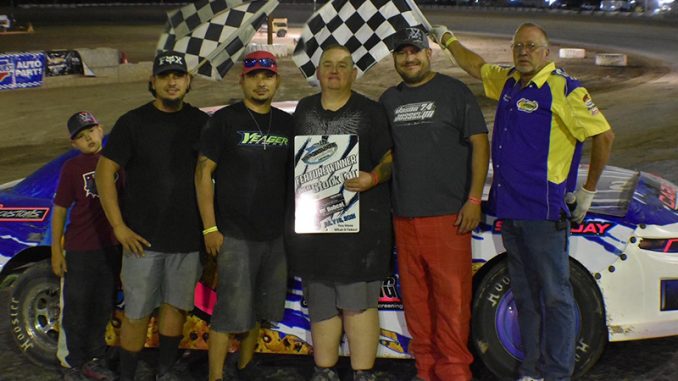 CORTEZ, Colo. (July 16) – After a month away from the track putting final touches on a new race car, Jeramy Hughes parked that 2020 Terminator ride in victory lane at Fairgrounds Speedway.
The July 16 victory was the IMCA Sunoco Stock Car first in 2-1/2 years for the Farmington, N.M., driver. He start on the pole and led flag-to-flag while battling power steering issues all weekend.
"It was a huge relief to know I can still compete. I was starting to doubt myself there for a while," Hughes said afterwards. "I saw Aaron's (Spangler) nose one time and knew I had to get up on the wheel."
Hughes started his IMCA career in 2013. He's always been a consistent runner and had top five finishes in his two previous starts, at Aztec, but hadn't been able to seal the deal for two-plus seasons until opening night of the doubleheader at Cortez.
"Taking the checkers was great," he said. "It's great to know I can still do it and can put a brand new car in victory lane."
Hughes' cousin Jason Duggins was the IMCA Sunoco Hobby Stock winner the same night. He came within a lap of sweeping the weekend, finishing second after Spangler drove by on the white flag circuit on Saturday.