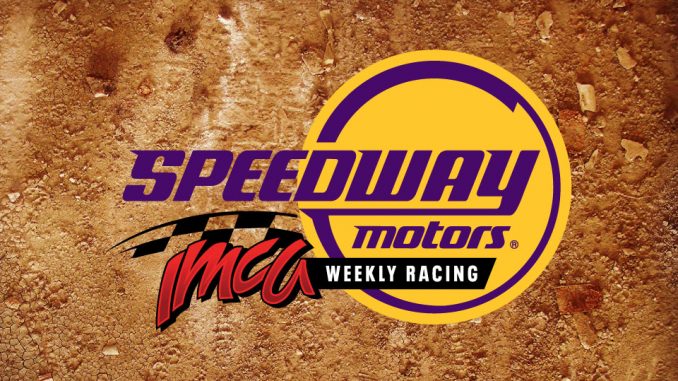 CORTEZ, Colo. – A fourth decade of IMCA racing at Fairgrounds Speedway Cortez begins with a three-day show Friday through Sunday, May 15-17.
"It's been overwhelming. The response we've gotten for the Covid Clash has been amazing," Race Director Rowdy Briggs said of early-entry numbers for IMCA Modifieds, IMCA Sunoco Stock Cars, IMCA Sunoco Hobby Stocks, IMCA SportMods and Mach-1 Sport Compacts. "We have 139 pre-registered now and know of more that are coming."
Pre-registered IMCA drivers for what will rank as one of the biggest events held at Cortez hail from half a dozen states and additional parking has been added to accommodate those race teams.
The grandstands will be closed and social distancing will be enforced in the pit area per CDC recommendations. A facial covering will be required away from pit stalls or when not in the race car. Drivers should pre-register through MyRacePass and must sign in at the track by 5:20 p.m. on Friday.
An open practice runs from 4:30-9:30 p.m. on Thursday and pit gates open at 8 a.m. Friday. Racing starts at 7 p.m. that evening.
Both the pill draw and drivers' meeting will be on Facebook Live.
Car and driver is $60 and pit passes are $35. Drivers and crew members are asked to pay with a check or exact change.
IMCA Speedway Motors Weekly Racing National, regional, E3 Spark Plugs Colorado State and track points are at stake each night. The same IMCA divisions are also on May 22-24 cards at Cortez.
More information about the Covid Clash and viewing online is available on Facebook.
Fairgrounds Speedway Cortez crowned its first IMCA Modified track champion in 1991 and first Stock Car track champion two years later.
"We have kind of been at a loss for words with the response from drivers and the racing community," said Briggs. "We'll be running 'B' mains for the Modifieds, Stock Cars, Hobby Stocks and SportMods."
Pre-registered drivers now include:
IMCA Modifieds – Jeff Anderson, Chaz Baca Jr., Josh Cain, Bryson Curry, Shane DeVolder, Don Geist, Trevor Geist, Dillon Hill, Brenda Kirby, Austin Kuehl, Zachary Madrid, Mike Magee, Lance Mari, Roy Meeks, Anthony Merritt, William Miller, Jacob Pace, Sean Stacy and Michael Thing Jr.

IMCA Sunoco Stock Cars – Allen Bradley, Braiden Breaux, Ron Brewer, Levi Card, Racely Card, Steffan Carey, Archie Clark, Robert Cody, R.C. Combs, Darrell Cordary, Race Fisher, Duane Frandsen, John Grandjean, Ed Henderson, Gene Henrie, Tony Hill, Jordan Hockenhull, Jason Josselyn, Jay Kibel, Dillon Lawrence, Robert Lewis, Steve Livingston, Hannah Miller, Rob Moseley, Shawn Parish, J.C. Parmeley, Clint Rapier, Nuggett Shupe, Dennis Spencer and Travis Sutherlin.

IMCA Sunoco Hobby Stocks – Rob Beagley, Jason Beshears, Shad Cooper, Francisco Cordova, Joshua Cordova, Tomi Duarte, Jason Duggins, Kyler Duggins, Shane Grippin, Richard Killingbeck, Cameron Martin, Gavin Meeks, Shawna Meeks, Chad Nelson, Andy Pearce, Scott Tenney, Sid Tenney and Pete Terwilleger.

IMCA SportMods – Brian Baker, Steve Blair, Brian Carey, Robby Claborn, Andy Clower, Danny Concelman, Michael Egurola Jr., Clay Erickson, Justin Erickson, David Farley, Shelby Frye, Robert Gallegos, Patrick Giratas, Chad Green, Jackson Harpole, Rex Higgins, Mike Hunter, Timothy Ihnen, Joey Jock, Kevin Johnson, Brooklynne Kibel, Anthony Madrid, Wes Meeks, Jesse Minor, J.D. Parsons, Bo Partain, Josh Pate, Jason Pugh, Mark Rodgers, Camron Spangler, Jason Spruell, Chris Toth, Ty Weidner, Jimmy Wilson and Lance Yoxsimer.
Mach-1 Sport Compacts – Billy Ayres Jr., Krissy Carpenter, Chelsea Clark, Jim Klokke, Rafe O'Brien, Michael Pratt, Ron Richardson, Darren Sage, Matt Schlamann, Jason Spruell and Paul Weller.