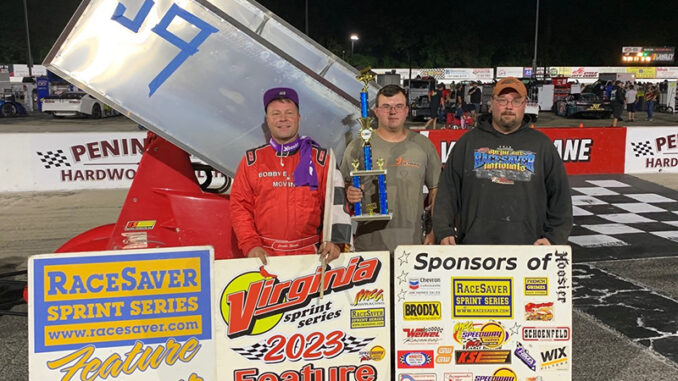 By Jim Haines
HAMPTON, Va. (Sept. 16) – Jerald Harris in the Harris Movers IMCA RaceSaver Sprinter sure had a handle on the Langley Speedway Saturday evening as he led every lap for a convincing win, his Virginia Sprint Series-leading third of the year.
Harris and Matt Mullins lead the field to green with a bad outcome leaving Chris Humblet and Aaron Leach being towed to the infield and finished for the night.
The second start was a good one as Harris jumped out and had Mullins right behind with Caleb Harris in third and Matthew Leach fourth.
Harris was on a rail lap after lap with Mullins holding on the second as Leach made his way to third.
Leach was all over Mullins when they got to traffic but Mullins stayed smooth and limited chances for Leach to pass. Harris was cruising as he took the final lap and completed the heat and feature sweep of the night as Mullins pulled away to come in second.
Leach ended in third.
Harris had also won back-to-back series starts July 1 at Hampton and July 15 at Shenandoah Speedway.
Next, it's back to Natural Bridge Speedway on Saturday night, Sept. 23 for the final race of the 2023 IMCA Speedway Motors Weekly Racing point season.