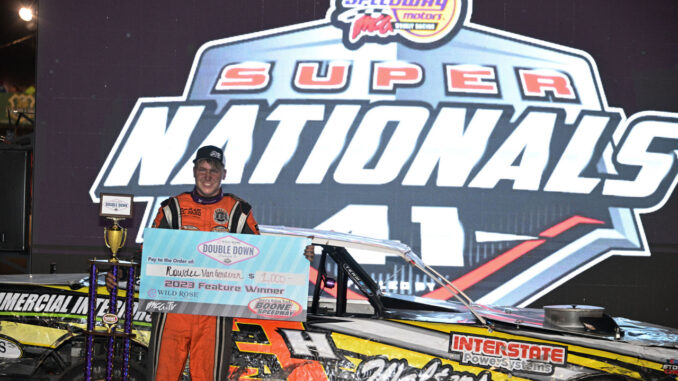 BOONE, Iowa (Sept. 2, 2023) – Checkered flag runs by a driver who has been in victory lane at Boone Speedway before and a first-time winner bookended opening night of the Wild Rose Casino Double Down Prelude.
A record 402 cars saw action during the Saturday show, which saw former race winner and defending IMCA Speedway Motors Super Nationals fueled by Casey's champ Jake Benischek top the Mach-1 IMCA Sport Compact feature and Rowdee Van Genderen win for the first time in an IMCA Sunoco Stock Car in the nightcap.
In between, Tim Ward and Jimmy Gustin both won Friesen Performance IMCA Modified features and $1,500, and Tyler Wilson won $1,000 and a Stock Car feature of his own.
The 16-year-old Van Genderen, in a borrowed ride and in just his second full season in The Class Too Tough To Tame, led the last 27 of 30 laps and was never challenged by a stout field following a restart at midway.
"I don't know what to say. It's my first win," admitted Van Genderen, a sure bet to have plenty to say in post-race interviews as wins accumulate in the future. "I'm speechless."
Californians Troy Foulger and Paul Stone, Jake McBirnie, Jeremy Mills and Damon Murty, veterans all, rounded out the top six behind the youngster, who hadn't been planning to race Saturday, didn't hot lap and put his first competitive laps on the Ty Hill car – Hill was absent for a wedding reception that evening – winning his heat and then dominating the feature.
"I was a little nervous," admitted Van Genderen, up to 5 a.m. Sunday after the B & B Racing Chassis All-Star Invitational qualifying drive. "Winning this race, especially racing against so many good drivers, is going to give me a lot of confidence."
The Newton High School junior is the son of long-time driver Mike Van Genderen, possibly the only person happier about the outcome of the race than the actual winner.
Wilson, already All-Star qualifying eligible, led the distance in the first Stock car qualifier, keeping Kelly Shryock at bay following a restart with nine laps left.
"I just wanted to stay consistent," he said. "I saw Kelly's number on the leader board and was just hoping there wasn't another restart."
Lone Star State speedsters Chad Hertel and Jeffrey Abbey, and Colorado's Angel Munoz were next across the stripe.
Ward had to pass Ryan McDaniel twice, on laps 12 and 25, before winning his third straight Prelude feature. The checkers were also his 22nd of the season.
"I thought I was going to run second. We were struggling a little bit," admitted Ward. "I wasn't sure if the middle was going to be good for me but it all worked out."
McDaniel, Nick Roberts, Braxton Yeager and 18th starting Dallon Murty completed the top five.
Gustin, a former IMCA Speedway Motors Super Nationals fueled by Casey's champion and Prelude winner, won for the second time this season at Boone and joined Ward on the list of Fast Shafts All-Star Invitational eligible drivers.
He led all 30 laps, beating Dylan Thornton to the line by eight tenth's of a second. Cody Laney, Tom Berry Jr. and Jake McBirnie, also former Super Nationals champs, ran 3-4-5.
"We've been a bit off but ended up getting it done tonight," Gustin said.
Benischek set the tone for the evening, starting the Sport Compact feature from 11th, passing Zach Bohlmeyer 15 laps in and leading 2017 Super Nationals champ Devin Jones the last five trips around the track.
National points leader Randy Martin, Bohlmeyer and Mitchell Bunch were next.
Friesen Performance IMCA Northern SportMods and IMCA Sunoco Hobby Stocks are on the Sunday Double Down Prelude card, along with final qualifying, the race of champions and Super Nationals main event for STARS Mod Lites.
Both nights of the Prelude and the entire week of the Sept. 4-9 Super Nationals will be broadcast by IMCA.TV.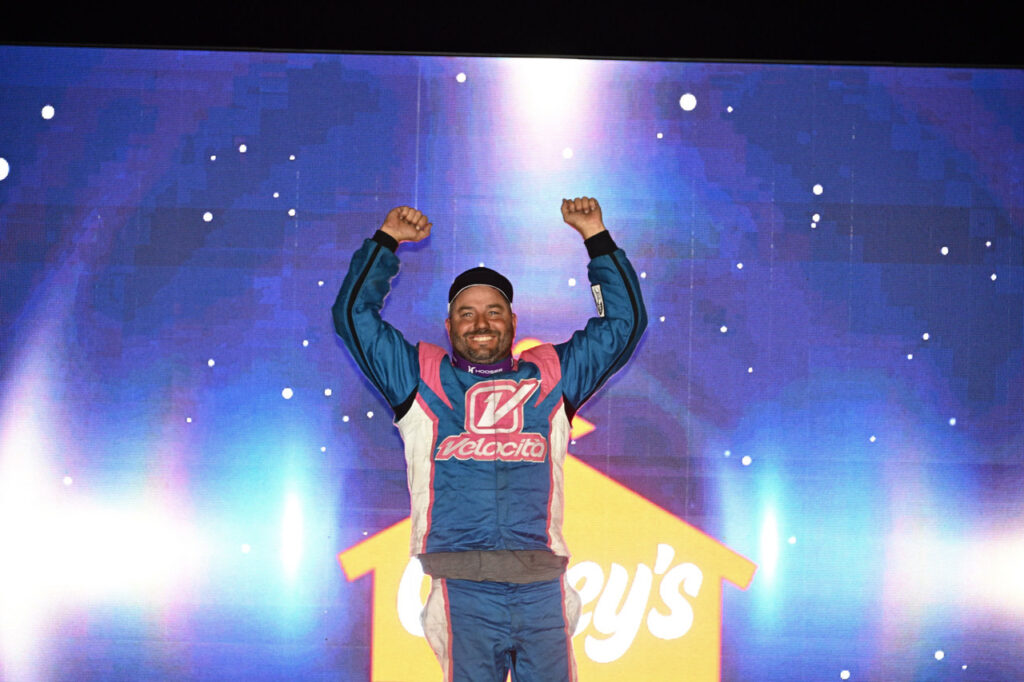 Jimmy Gustin celebrated a $1,500 Friesen Performance IMCA Modified feature win during the Saturday Double Down Prelude at Boone Speedway. (Photo by Tom Macht, www.photofinishphotos.com)