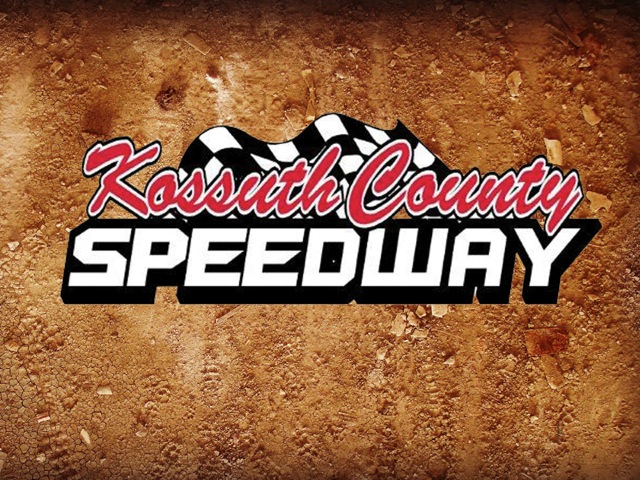 By Greg Grabianowski
ALGONA, Iowa (Aug. 24, 2023) – In the final evening of dirt track racing at the Kossuth County Speedway in 2023, five IMCA champions were crowned on Thursday to highlight a night of exciting racing.
The IMCA Sunoco Hobby Stocks saw Chris Krug take a narrow early lead over Joe Doran and Tim Sidles with Brandon Nielsen, Josh Sidles and Mike Smith joining that group battling for the lead.
Krug led the first three laps before Nielsen took over the top spot. Nielsen continued to hold the lead with those other drivers keeping the heat on. Only the yellow flag with two laps to go delayed Brandon's fourth trip into victory lane this season at Algona.
Krug won a hard-fought battle for the runner-up spot as Josh Sidles was third with Smith taking fourth and Tim Sidles rounded out the top five. Smith was the season champion.
The Friesen Performance IMCA Northern SportMod feature was almost a carbon copy each night out this season and it went as scripted before on Thursday night.
Justin Raymond led the first five laps before the yellow flag flew for debris. Matt Looft took over the lead off the restart and was simply g-o-n-e from the rest of the field to win yet another feature at the oval.
Raymond had another strong run to place second as did third place Jake Simpson. Jarett Franzen took fourth as Alex Smith rounded out the top five cars. Looft won his amazing 11th feature of the season at the track to take another championship. The Swea City driver won 11 of 16 nights of racing at the track and was in the top five finishers all 16 of those nights.
The IMCA Sunoco Stock Car feature saw a new winner for the first time this year at the track as Burt's Gary Pesicka led all 15 laps.
Only a couple cautions delayed his first trip in 2023 into victory lane. Mike Albertson had a very strong run to take second followed by Kevin Opheim, Chad Palmer and Wayne Landheer. McCain Jennings won his first season championship after a roller coaster season, including totaling his car early in the year but was very good most of the season and won a total of four features in Algona this summer.
The Friesen Performance IMCA Modified feature went green to checkered over 15 laps. Cody Knecht led the first circuit but that was the only one as Jeremy Mills wrapped up the season championship with his eighth feature win of the year.
Knecht finished as the runner-up in the feature with the winner of the only modified heat race of the night going to Sam Hoffman.
Stephen Stiteler made the long trip from Decatur, Texas, well worthwhile as he won his second Mach-1 IMCA Sport Compact feature of the season at the track. Track champion Lucas Parsons finished as the runner-up.