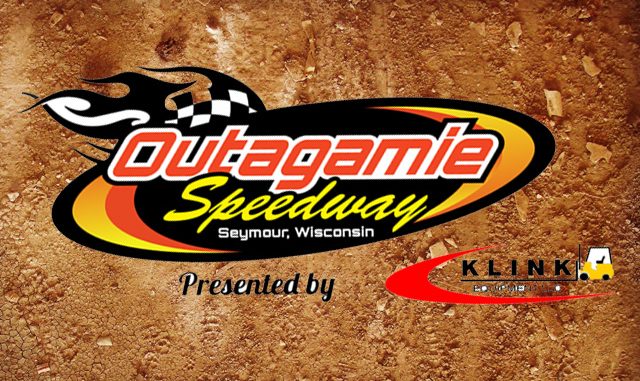 By Edward Anschutz
SEYMOUR, Wis. (Aug. 18, 2023) – A rookie driver cashed in big Friday at Outagamie Speedway's $1,000 to win special for Friesen Performance IMCA Northern SportMods.
Tyler Demars set the pace on the opening laps. A caution on lap four allowed rookie Coy Vlies a shot at Demars and he took it.
As the field took the green, Vlies threw a slider going into turn one and made a clean pass for the lead. Vlies was able to keep the field at arm's reach the rest of the way to score the win and a $1,000 payday for his efforts.
Jordan Jahnke placed a solid second, Dylon Waldvogel placed third and Matt Radtke was fourth.
The first 17 laps of the Friesen Performance IMCA Modified headliner clicked off quickly as Marcus Yarie paced the field. Benji LaCrosse worked from row six and into the runner-up position just past the midway point.
A caution with three to go saw Yarie and LaCrosse tangle on the restart. To his dismay, LaCrosse's machine sustained damage from the infield tire and he was unable to continue.
Yarie held the top spot the final three circuits to score the win. Lucas Lamberies placed second, Dan Roedl was third and Brian Mullen took fourth.
In IMCA Sunoco Stock Car action it was Scott Besaw and Austin Jansen battling for the top spot. Jansen worked low lap after lap while Besaw ran the cushion.
Jansen eventually took the lead but was quickly challenged by last week's winner, Kyle Frederick. The duo ran door-to-door the final five laps of the feature. As the pair crossed the stripe it was a virtual dead heat with Frederick winning by a mere .037 seconds.
Jansen drove a great race to take second, Besaw was third and Jeff Kropp completed the top four.
Ben Schulte was victorious in the Mach-1 IMCA Sport Compacts. Schulte fended off the point leader Cody Booth to score the win. Booth placed second, Al Cottrell came from row seven to place third and with a fourth-place finish Alexis Czarapata had her best run of the season.