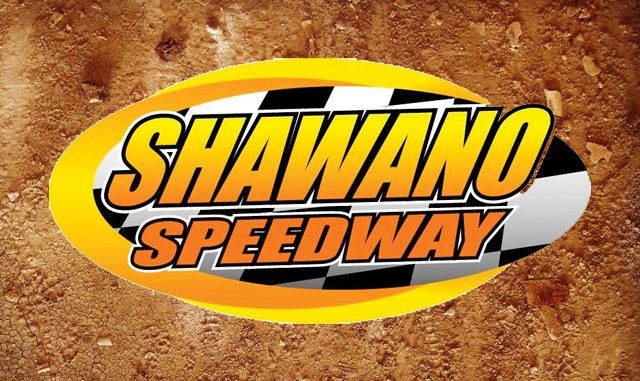 By Brandon Reichenberger
SHAWANO, Wis. (Aug. 5, 2023) – Mother Nature provided a beautiful night for racing at the legendary half mile Shawano Speedway on Saturday.
Opening ceremonies kicked off the action honoring long-time track worker and former racer Scott Weisnicht with "One Final Lap" as he carried the checkered flag in is no. 53 Camaro. Scott was diagnosed with cancer earlier this year and to honor him and his contributions, Spectator Eliminators returned to compete in "One Lap for Weisnicht."
Travis Welch and Trent Nolan led the field to the green flag for the 20-lap IMCA Sunoco Stock Car feature. Nolan quickly took the lead with Shawn Wagner following Nolan through to second. Jeremy Christians made the pass on Welch to maintain third place.
Behind them a fantastic three-car battle between Dylan Stedjee, Dan Michonski and Travis Van Straten was taking place. Lap after lap, they raced three-wide at both ends of the speedway, trading spots back and forth and putting on a show.
A mid-race caution stacked the field up and set up a shootout to the finish.
Christians applied pressure to Nolan as the top two went all out up front. Christians overtook Nolan while Mitch Stankowski quietly worked his way up to third. As the laps wound down and the race came to a conclusion it was Christians going home with bragging rights and the trophy on this night.
Following him across the line were Nolan, Stankowski, Van Straten and Stedjee.
In the Friesen Performance IMCA Northern SportMods, Joshua Fleischman and Dustin Marquardt led the field to green. Marquardt jumped out to an early lead but the Domino's Pizza yellow flag flew before the end of lap one.
When racing resumed, Marquardt immediately established himself as the leader while Forrest Kernen stole second from Fleischman. Bryce Clements, JJ Vanderloop and Fleischman began to battle over who would take the third spot and it was Vanderloop who made quick work of it and began to set his sights on the top two.
A little further back, Tyler Sobiesczyk was working his way forward. Vanderloop did his part in the quest for a win with Sobiesczyk on the charge, overtaking Kernen for second and zooming past Marquardt for the lead.
Sobiesczyk worked his way to the runner-up spot and the second half of this race was all about Vanderloop and Sobiesczyk as they broke away from the field to settle this one by themselves.
Sobiesczyk got to Vanderloop's back bumper multiple times but each time he looked to make a move, Vanderloop found just a little bit more and pulled away.
Finally, Sobiesczyk was able to get to the and complete the pass, then pull away to the checkers. Following him across the line were Vanderloop, Travis Rhoades, Fleischman and Marquardt.
Shawn Frehlich and Marcus Yarie paced the field to flag in the Friesen Performance IMCA Modifieds but Jerry Wilinski wasted no time grabbing the lead and setting sail out front.
Kevin Feck and Jason Czarapata got locked into a battle with Frehlich as they worked to settle the score in the top five. Wilinski had all but left the field in the dust out front and looked as though he would be able to cruise to an easy victory before a splash of three caution flags resulting in 30 percent off at Domino's Pizza of Shawano wiped away what was a straightaway lead.
As each restart played out it was Johnny Whitman who was making his way forward and bringing Konnor Wilinski along with him.
Whitman took a few laps to get rolling from his ninth place starting spot but by lap 15 found himself with an opportunity to challenge for the lead. Wilinski was able to maintain a three- to four car-length advantage over Whitman following a restart just after halfway.
As the leaders entered turns three and four on lap 18, Wilinski had a big bobble that allowed Whitman to get to his bumper coming to the white flag.
This set up an exciting, on the edge of your seat final lap. Off turn two, Wilinski was able to open up two-car length lead and race across the line first to score the win.
Whitman came home second followed by Konnor Wilinski, Jordan Bartz and Mike Schmidt.