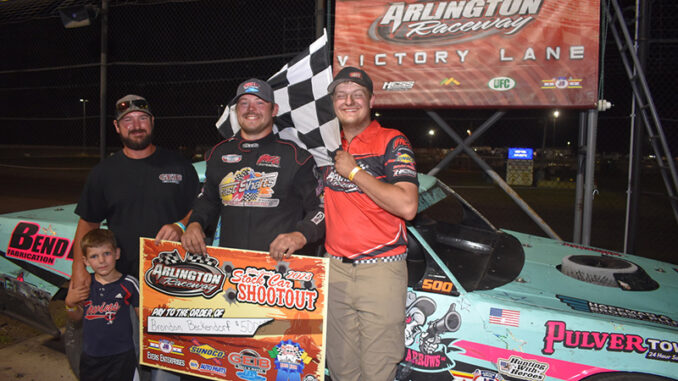 ARLINGTON, Minn. (Aug. 2, 2023) – The Sibley County IMCA Sunoco Stock Car Shootout at the Arlington Raceway saw a fantastic field of cars and 45 stellar drivers competing for some big paydays.
The largest paid out was to Brandon Beckendorf from Danube as he won $9,185 for his driving abilities. He had a clean sweep for the night, winning his heat race and $135 as well as leading every lap of the 30-lap race to earn $135 per lap plus the $5,000 to win top prize.
His drawing partner found the right Frisbee as she drew the no. 2 spot, putting him on the outside of the front row of the 24-car field.
Second row starter Jeffrey Larson got by Beckendorf early on but a yellow flag came out when three cars got tangled in turn three. After restarting, the race went to the checkered flag with Beckendorf leading the way and Larson following him.
Behind them, Matt Speckman was battling with Curt Lund for the third and fourth spots but in the end Speckman took third just ahead of Lund. Dan Mackenthun moved through the field from starting deep in the field, starting 19th and taking fifth.
Kelly Shryock started 22nd and passed 15 cars to claim the $100 hard charger award. Beckendorf's win earned him a guaranteed starting spot in the upcoming spot in the B & B Racing Chassis All-Star Invitational.
Several bonus prizes were given out including a $500 random draw from B & B Racing Chassis won by Curt Lund for fourth place, a $500 random draw from Sunoco/Arlington NAPA for 13th place finisher Chance Hollatz and a $500 random draw from Larsen Automotive for 20th place won by Matt Looft,
Longest towed car John Oliver Jr. from West Burlington, Iowa, received $200 from Skelly Towing and a tough luck award of $200 from Prairie Grill & Bowl LLC in Belle Plaine went to Michael Jeanette.
Other random draws before the race at the pit meeting went to Ryan Grochow and AJ Zimmerman for $125 each. EZ Wash & Storage gave Chuck Winters, driver of the last finishing car in the feature an extra $250. Other heat race winners taking home $135 were Zane DeVilbiss, Justin Luinenburg, Derek Green and Jeffrey Larson.
After the feature the top 10 finishers were all eligible for the Go For It Gas King of the Hill Race in which the winner Luke Sathoff from Jackson took home $500 for outlasting the other nine cars.
The Friesen Performance IMCA Northern SportMod feature saw Ben Reierson lead the first 13 laps with Charlie Rustman sticking with him for the most of the race but falling back when Matt Looft moved through the field from his 15th place start.
On the 14th lap, Looft made his move and got around Reierson to take the lead and a couple of laps later a yellow was thrown for a spinning car which restacked the field. Rustman was able to quickly get out ahead of Reierson and take second spot but wasn't able to catch Looft as he took the checkered flag to pick up the $1,150 top prize.
Rustman had his best finish taking second ahead of Reierson and fourth went to Tony Stephensmeier.
Random draws were won by John Rebstock for $250 from NAPA/Sunoco, Larsen Automotive $125 Random Draw to Jared Boumeester and for fifth place Broddy Enter from Hess Technology. All 6-10 place finishers got an extra $100 from Go For It Gas and the hard charger went to Looft from Geib Well & Water.
The IMCA Sunoco Hobby Stocks saw 21 drivers start the feature and saw four different leaders.
Dan Probst started on the front row next to Rod Manthey and had the early lead but soon Blake Luinenburg took over the race He had a strong lead but going into turn one on the eighth lap, he and Joe Regnar made contact which put both cars to the work area.
On the restart, Calvin Dhondt took the lead but he and Cory Probst had a race just between themselves and going into turn four, Dhondt pushed Cory up on the track and Cory lost his grip and went off the track causing a yellow flag. Probst was able to rejoin the race but had a distance to go in a short amount of time.
On the restart, Dan Probst drove hard and passed Dhondt to take over the lead and remain the leader for the last two laps to win his first feature this season and the $750 prize money.
Dhondt took second ahead of Jonathan Schroeder, who was later DQ'd in post-race tech, giving third to Brett McConnell.
The 6-10 place finishers all received an extra $100 from Go For It Gas. Dhondt won a random draw from NAPA/Sunoco for $125, Jordan Robinson won a $125 random draw from Larsen Automotive and Ben Davis won a $100 random draw at the pit meeting.