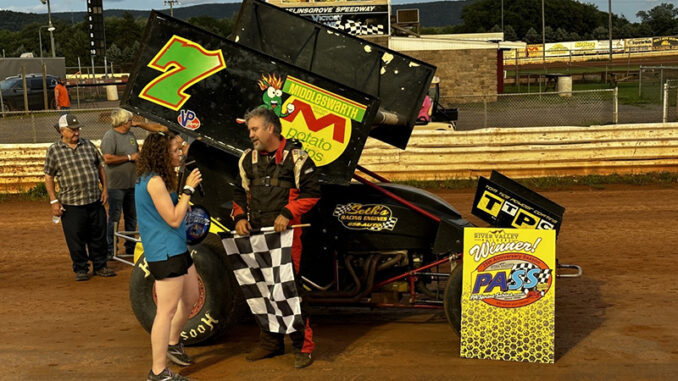 By Frank Buhrman
SELINSGROVE, Pa. (July 29, 2023) – Drew Young's breakout season kicked up another notch Saturday night when the Beaver Springs driver took his second career victory in the River Valley Builders Pennsylvania Sprint Series feature at Selinsgrove Speedway.
Young drew the pole position, traded the lead with Doug Dodson and led the last half of the 20-lap race, followed throughout by Dodson, who finished 2.068 seconds behind.
Friday night's Big Diamond winner Zach Rhodes started and finished third, followed by Kenny Heffner and Austin Reed.
Young had started on the pole and led the field into turn one on the opening lap, only to have Dodson use the high side to assume the lead coming off turn two. Dodson led nine laps before Young slipped past him on the inside and grabbed the lead for good.
It was the second career win for Young, who had no prior racing experience and is in his third full season with PASS. The breakthrough IMCA RaceSaver Sprint Car victory came less than two months ago, on June 3 at Port Royal.
Reed collected the W.C. Eshenaur & Son Hard Charger Award for advancing from 10th place to his finish. Earlier he had won the Jim "Slippery" Snyder Fast Time Award, created by Brian Snyder in memory of his father, a long-time push truck driver at Selinsgrove.
A recent addition to the post-race awards has been the presentation of a PASS-decorated cake, baked by Deb Young, to the winner. The award was extra special for this race, with her husband as the winner/recipient.