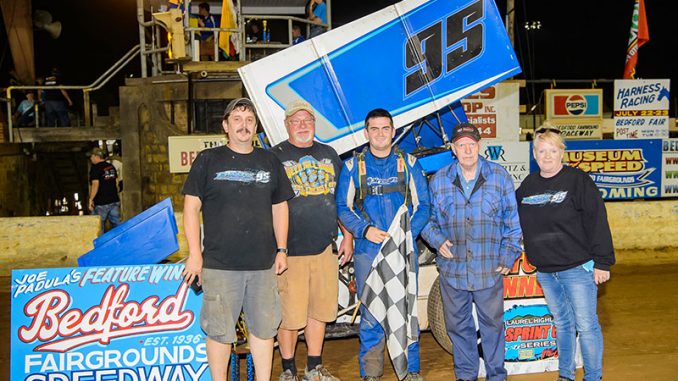 By Frank Buhrman and Stephanie Stevens Dodson
BEDFORD, Pa. (Sept. 21) – Coming into Saturday's racing at Bedford Speedway, rookie Garrett Bard had three wins in Pennsylvania Sprint Series competition and one with the Laurel Highlands Sprint Series, all in less than three months.
Now he can add a win to both lists, after taking the 25-lap feature co-sanctioned by the two IMCA RaceSaver Sprint Car groups.
Bard led the entire race but hardly had it easy. With leaders entering traffic in about five laps, Bard had to contend with challenges from Drew Ritchey and Doug Dodson until polesitter and rookie Kyle Keen, running fourth, lost his right front tire on lap nine and skidded along the outside guard rail before stopping in turn two, ending an impressive return to racing two weeks after getting married.
At the same time as Keen's misfortune, Randy Sterling and Devon Adams made contact. All three cars were done for the night.
With three front-runners out, 10th-place starter Christian Rumsey inherited fourth and Tyler Denochick fifth.
The restart saw Bard again pull out to a healthy lead, although traffic entered the picture late and continued to make things interesting.
In the fourth turn on the final lap, Dodson outraced Ritchey for second place.
Dodson continued his quest for national rookie of the year honors with his runner-up finish, followed across the finish line by Ritchey, Rumsey and Robby Bartchey.
Feature results – 1. Garrett Bard; 2. Doug Dodson; 3. Drew Ritchey; 4. Christian Rumsey; 5. Robby Bartchey; 6: Steve Kennewel. Tyler Denochick; 8. Jaremi Hanson; 9. Larry McVay; 10. Landon Price; 11. Reed Thompson; 11. Scott Ellerman; 12. Jake Frye; 13. Ron Aurand; 14. Erin Statler; 15. Zach Newlin; 16. David Grube; 17. Ryan Lynn; 18. John Fiore; 19. Kyle Keen; 20. Devin Adams; 21. Randy Sterling; 22. Scott Lutz; 23. Stevie Kennawell; 24. Dylan Proctor.