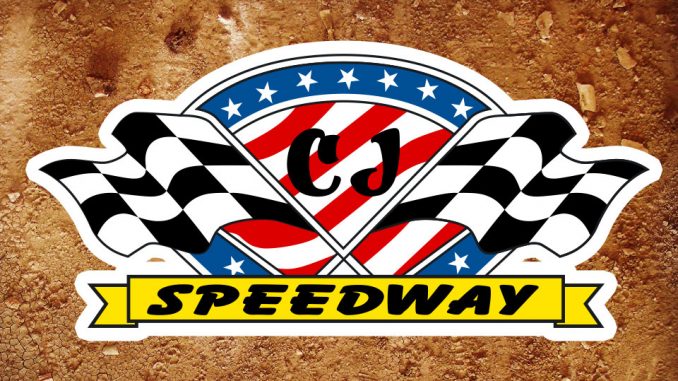 By Jerry Mackey 
COLUMBUS JUNCTION, Iowa (July 14, 2023) – Racing resumed at CJ Speedway, following two consecutive nights of rainouts of regular IMCA Speedway Motors Weekly Racing programs. Rain threatened to spoil Friday night as well but went on as scheduled and Patriot Fireworks provided a very nice display of pyrotechnics before rain moved in.
The headliner of the night was the Friesen Performance IMCA Modified main event. Brandon Banks debuted his new car and the new car is going to be a very fast machine.
Banks shot to the front from his fourth row start and built a comfortable lead only to have ninth starting Jarrett Brown chase down Banks and make what proved to be the winning pass with four laps remaining. Brown has been the man to beat all year and Friday night was no exception. Banks ran second ahead of Kurt Kile.
A win in the Friesen Performance IMCA Northern SportMods would be very big for Shane Paris, currently fifth in national standings for the division, and that was exactly what Paris was able to achieve.
Cody Layman led early and had built a comfortable lead before the field was bunched up for a restart following a caution. Paris took advantage of the caution and shot by Layman and went on to record the win. Layman turned in a fine run in taking second ahead of Carter VanDenberg.
Tom Cannon visited victory lane for the first time in 2023 after scoring his feature win in the IMCA Sunoco Stock Cars. Cannon took advantage of a front row start and led the feature flag to flag. Cannon hit his marks every lap in diving a perfect race in taking the checkers ahead of Kirk Kinsley and Dustin Griffiths.
The IMCA Sunoco Hobby Stocks have put on entertaining races every week and Friday night was certainly no exception. James Pilkington led early before giving way to Tom Killen, who had advanced from a fourth row start.
Killen led for several laps until Luke Phillips was able to take over the point position. Phillips, who certainly is no stranger to victory lane took the win ahead of Killen and Tucker Richardson.
Mach-1 IMCA Sport Compacts started off the feature portion of the race program. Darin Smith scored the feature win, getting to the checkers ahead of Shane Barnes and Caleb Giese.
Friday, July 21st will be another full weekly race program with five classes of cars in action. Then the stage will be set for the 2023 Louisa County Fair. The race night being billed as the Battle on the Levee will offer a huge purse for all the racers with the help of a long list of sponsors. The race night during the Fair will be Thursday, July 27.