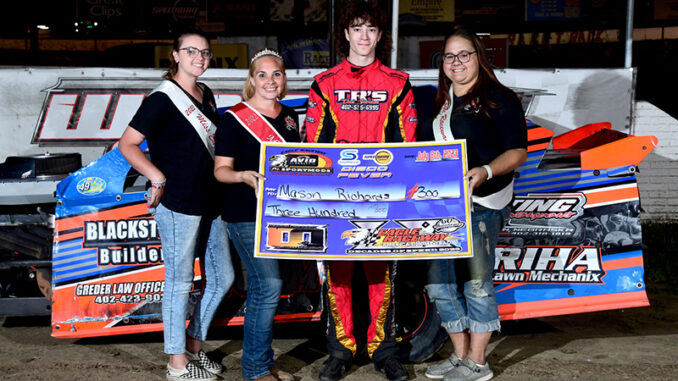 By Greg Soukup
EAGLE, Neb. (July 8, 2023) – A third generation driver became a first time Friesen Performance IMCA Northern SportMod on Disco Fever Night at Eagle Raceway.
Mason Richards kept Adam Armstrong in check in the Saturday show, and followed father Terry and grandfather Terry Sr. onto the roll of feature winners at the famed Nebraska speed plant.
"It's definitely special. Both my dad and grandfather have won here at Eagle, so being the third generation to win here just makes it all the more special, especially in my rookie year here. I couldn't be happier," he said.
Mike Densberger won for the first time this season at Eagle in the IMCA Modifieds, leading from lap two to the checkers.
"It's been a long time. I don't think I got a win out here last year so the year that I won the championship (2021) was the last time I won out here," he said. "The car was really good all night. We tweaked something before the races even started because we saw how heavy the track was and the car was really, really good from the get-go."
Nick Beckman was running second when leader Gary Laflin headed pit side with a flat tire with three laps left in the IMCA Sunoco Stock Car main.
"The win has been a long time coming, I can't lie about that. We've had a lot of bad luck, we've had some good luck," he said. "We've been able to hang with them, we just haven't been able to actually do it. I really feel bad for Gary because I think that was his race to win. He popped a tire and I was able to capitalize on it."
Tyler Jackson got his first Eagle IMCA Sunoco Hobby Stock win since last August in a green, white, checkered finish.
"We just got the car back from the frame shop two days ago and we've been working on it non-stop for two days," Jackson stated. "The car isn't perfect, but I was able to get it done tonight."
Mike Boston turned some bum luck of his own around in starting 10th and marching to the front of the IMCA RaceSaver Sprint Car feature field.
"We've had some bad luck most of the year, mostly mechanical problems, but we finally had a night that went decently for a change. We were pretty good," he said. "… These dang races get tougher every year. It doesn't matter how old you are or how young you are, when you win a race here at Eagle Raceway you've earned the dang thing. (Promoter) Roger Hadan is always saying that we've got some of the best drivers in the nation. Winning a weekly race here is like winning a national race anywhere else. We've had several guys who have won the IMCA RaceSaver Nationals so you know it's tough."