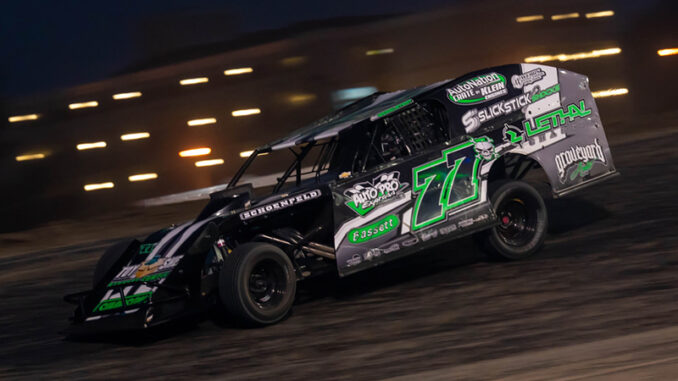 MINOT, N.D. (July 9, 2023) – What the announcers promised to be a battle royale lived up to its billing Sunday at Nodak Speedway.
Defending champion Tom Berry Jr. passed Travis Hagen for the lead just after midway, then worked his way through lapped cars to win a fast-paced 30-lap Friesen Performance IMCA Modified main event on night two of the 34th annual IMCA.TV Dakota Classic Tour.
Berry put on a clinic working in and through heavy traffic, finally running with an open track in front of him for the last four circuits. He led Hagen across the stripe by just more than a second with Kody Scholpp third, five seconds off the pace.
"I was just being patient. Travis drove a great race," said Berry, who'd swept the six-race tour last year but exited early from Saturday's opener at Jamestown with mechanical issues. "I just timed it out just right to get him."
Hagen, also the runner-up at Jamestown, and Berry drew front row starts and both had caught up with the back of the field by lap 13. Berry made his move to the front and was in the lead when lap 16 was scored.
Scholpp ran third from lap three to the checkers. Saturday winner Tim Ward came out of a 'B' feature, started 18th and caught Cody Laney for fourth the last time around.
Ricky Alvarado, another 'B' qualifier, started 17th and ended in sixth.
Berry, in a borrowed car, earned $2,000 for the win, his Fast Shafts All-Star Invitational qualifying eligible sixth and career 69th in the division.
Another defending tour champion, Trent Grager, led the last 23 of 25 laps in winning the IMCA Sunoco Stock Car feature and $1,000.
He took the high line around Cole Czarneski coming to the line on lap three. The only caution of the contest came on lap eight and Grager had a second advantage over Rob VanMil as the two swapped Jamestown finishes.
Grager was already B & B Racing Chassis All-Star Invitational qualifying eligible. Austin Daae, Adam Goff and Zachary Madrid completed the top five.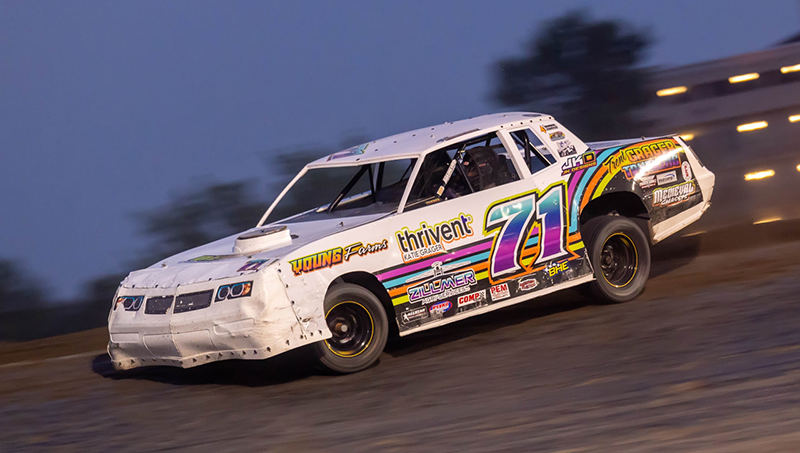 Saturday runner-up Trent Grager was Sunday's IMCA Sunoco Stock Car feature winner when the IMCA.TV Dakota Classic Tour traveled to Nodak Speedway. (Photo by Byron Fichter)
More than 90 cars saw action at Minot, representing 16 states and two Canadian provinces.
Night three of the IMCA.TV Dakota Classic Tour takes Modifieds and Stock Cars to Estevan Motor Speedway on July 10.
The Monday night show in Saskatchewan will be the first held north of the border since 2019.
IMCA.TV broadcasts all six nights of the tour, which then travels to Williston Basin Speedway, Southwest Speedway and Dacotah Speedway.