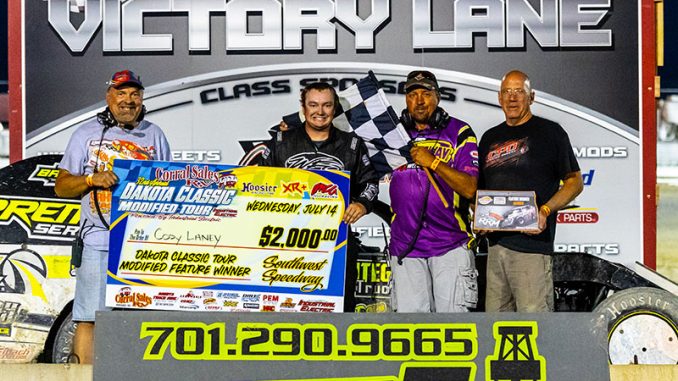 DICKINSON, N.D. (July 14) – Almost five years to the day he first won at Southwest Speedway, Cody Laney raced his way back to victory lane at the lightning-quick North Dakota oval.
Laney topped the fifth installment of the Corral Sales Dakota Classic Tour IMCA Modified feature, adding to his tour point lead with the $2,000 checkers.
The California driver had also been the winner of the July 13, 2016 event at Dickinson, his only previous tour victory.
"That's the only other time I've raced here," said Laney, noting that track prep for the Wednesday night show fit his driving style. "Last year was the first time we'd raced the tour since then. We had motor problems and I only raced the first three nights."
"Following the tour is a lot of work but it's a really cool deal," he continued. "The tour has been around a long time and has a lot of prestige. There are a lot of good drivers – the locals are really good."
Former tour champion Troy Cordes led much of the way. Laney started fifth, stayed close through a number of restarts and finally got by Cordes with nine laps left.
"Early on I ran around the bottom, then moved to the top where Troy was," he said. "Once I got to the lead I stuck with what I knew and it worked out."
Tim Ward won his 'B' feature, started 16th and ended the night as runner-up. Cordes was third, Sunday winner Ethan Dotson fourth and Eddie Belec fifth.
Spencer Wilson started last in the field of 28 and finished 13th.
Dalton Flory ran his winning streak to three in a row in the IMCA Sunoco Stock Car half of the tour, taking another $1,000 checkers ahead of Zachary Madrid and Jake Nelson.
He ran the top line for his fourth win in five Southwest starts this season after getting to the front six laps in.
"There was a little bit of a cushion up there," said Flory, who pulled away to the win. "We've been doing more racing this year than years past and it's worked out for us."
"We're just having fun and taking it day by day," he added, "and just enjoying it."
The 32nd annual tour concludes Thursday night at Dacotah Speedway in Mandan. Laney was already on the Fast Shafts All-Star Invitational ballot while Flory was eligible to qualify for the B & B Chassis All-Star Invitational.
Feature Results
Modifieds – 1. Cody Laney; 2. Tim Ward; 3. Troy Cordes; 4. Ethan Dotson; 5. Eddie Belec; 6. Steven Pfeifer; 7. Travis Hagen; 8. Jake McBirnie; 9. Dakota Sproul; 10. Lucas Lamberies; 11. Matt Auikland; 12. Justin O'Brien; 13. Spencer Wilson; 14. Jeff Taylor; 15. Dominic Ursetta; 16. Ryan Schroeder; 17. Drew Christianson; 18. Zachary Madrid; 19. Casey Arneson; 20. Collen Winebarger; 21. Ricky Alvarado; 22. Marlyn Seidler; 23. Hank Berry; 24. Kelsie Foley; 25. Tanner Black; 26. Tom Berry Jr.; 27. Tripp Gaylord; 28. Jeremy Thornton.
Stock Cars – 1. Dalton Flory; 2. Zachary Madrid; 3. Jake Nelson; 4. Angel Munoz; 5. Ryan Gaylord; 6. Rob Stenvold; 7. Travis Ulmer; 8. Adam Goff; 9. Shawn Volk; 10. Jace Iverson; 11. Gabriel Deschamp; 12. Casey Binstock; 13. Hunter Cavanagh; 14. Jason Kniffen; 15. John Gartner Jr.; 16. Hailey Jordan; 17. Mike Swallers; 18. Chris Evoniuk.