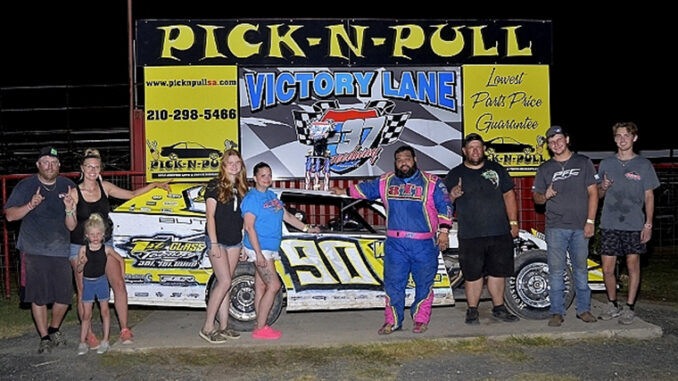 By JM Hallas
PLEASANTON, Texas (July 8, 2023) – It was a blast, literally.
While many tracks celebrated the Fourth of July during the previous week, I-37 Speedway celebrated the next weekend, hosting its Military Appreciation Night with free admission to active and retired military, discounts for the rest of their families and loads of service members from the San Antonio bases.
Last year the cannon was a big hit. #herecomestheboom
At the start of the Friesen Performance IMCA Modified 20-lap feature it was Greg Dinsmore getting a good launch to get the lead followed by Ryan Doyon, Rick Green, Johnny Torres and Chris Carroll.
Doyon quickly began looking on Greg Dinsmore getting the top spot on lap two with Johnny Torres getting third from Green. Logan Dinsmore made his way past Carroll for fifth.
Darrell Boyd had his first of two spins for a lap four caution. Once back to green, Torres worked past Greg Dinsmore for second while Logan Dinsmore took fourth from Green. Greg Dinsmore fought back, running side-by-side with Torres for a couple laps with Green and Carroll wheel-to-wheel for fifth.
Torres moved to the top getting alongside Doyon for the lead and after a couple laps finally got the point on lap 14 with the father-son Dinsmores side-by-side for third. They caught Doyon going three-wide for second.
Logan Dinsmore tried high, then low on his dad for second, but the senior Dinsmore prevailed. The three-way battle for second gave Torres the opportunity to pull away to a half straightaway lead that he held until the checkers for his first-ever IMCA Modified win.
"They can't say this car isn't fast," said Torres. "If my fat butt can run the top and win a race, it must be pretty good."
"I was just kind of searching," he added. "Then I saw Ryan (Doyon) get the rut a couple times. He was running the bottom so I figured my only hope was running the middle or top. Since I don't have a lot of experience in a big mod, I just call Stevie (Whiteaker) and do what he tells me to do on the car."