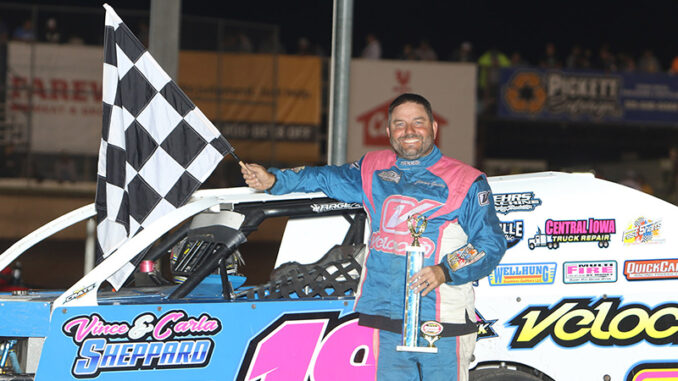 By Joyce Eisele
BOONE, Iowa (July 8, 2023) – A huge field of 177 cars filled the pits at Boone Speedway on Saturday night and provided fans with a full night of racing action.
Jay Schmidt repeated an earlier win in the IMCA Sunoco Stock Cars, while first-time wins this season went to Jimmy Gustin in the Friesen Performance IMCA Modifieds, Logan Anderson in the Friesen Performance IMCA Northern SportMods, Riley Christensen in the IMCA Sunoco Hobby Stocks and Joe Glick in the Stealth Racing IMCA STARS Mod Lites.
The Mod Lites ran a 15-lap feature, which did not start well. As the race went green, two cars rolled over coming out of turn two and the race was red flagged until the chaos was cleared. Thankfully, the drivers, Mike Kennedy and Garrison Anderson, were both okay.
When the race got underway, it saw Glick lead the distance to capture his first feature win of the season at Boone. Josh May started 11th and got past Randy Bryan in the closing moments as they finished second and third, respectively. Fourth went to Bryan Zehm and a close fifth was Austin Gray.
Earlier, the Mod Lites ran a King of the Hill contest paying $500 and a "title" belt trophy. The final round saw May take home the money and the belt, winning over Jason Toppenberg, David Bailey and Zehm.
The Northern SportMod 18-lap feature did not start off well, either, as it too was red flagged before the first lap was scored. Pole sitter Matt Avila and outside front row starter Jessiah Taylor made contact, which sent Avila tumbling before a lap was completed. Avila was okay.
When the race went green, it was Dusty Lynch grabbing the top spot but he quickly had company breathing down his neck. Fourteen-year-old Gage Hilgenberg and Logan Anderson joined Lynch for a three-way breakaway.
A caution at lap seven bunched the field for the restart and Anderson, who had made his way into second, was anxious to see the green fly.
It took until lap 14 before Anderson was able to make the pass for the lead, but then he pulled away in the closing laps, and scored the comfortable win. Lynch finished as the runner-up, David Schwartz came from 11th starting to take third, fourth went to Hunter Longnecker and Curtis Veber completed the top five.
Anderson saw the winner's circle for the first time this season at the track.
IMCA Modified ran their 20-lap main event next with Gustin taking over the lead from Kaden Cochrun, Bakersfield, Calif., racer on lap five and never looking back.
Gustin had to withstand four cautions but held the top position throughout the restarts, and took his ride to Victory Lane for the first time this year. Paul Nagle finished second, third went to Lakewood, Colo., driver Tripp Gaylord, who started 14th, fourth was Kaden Cochrun and hometown racer Izac Mallicoat was fifth.
Stock Cars ran a 20-lap feature and it was Schmidt leading from start to finish.
He was challenged most of the race by Troy Jerovetz, sometimes in a tight battle, but without touching, and Jerovetz had to be content with his second place run. Third went to 12th place starter Donavon Smith, Rod Richards was fourth and Jeff Mueller came from 14th starting to round out the top five. This was Schmidt's second win of the season.
IMCA Hobby Stocks went 15 laps for their feature event and Christensen led all but the opening lap to take his first win at the speedway. John Watson made his way from starting ninth to take second place.  Seth Butler finished in third spot, fourth was 11th place starter Tom Killen Jr. and Chris Hupp completed the top five.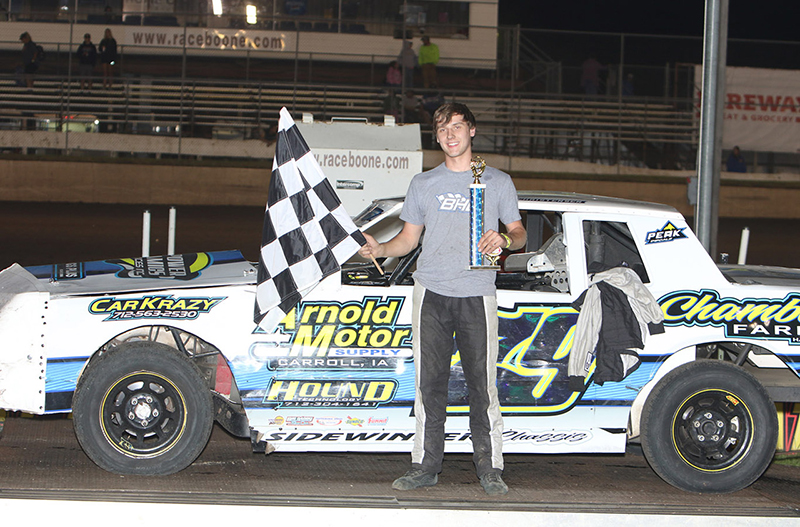 Riley Christensen collected the IMCA Sunoco Hobby Stock checkers Saturday at Boone Speedway. (Photo by Bruce Badgley, Motorsports Photography)
On Saturday, July 15,  the IMCA Modifieds, Stock Cars, Northern SportMods, Hobby Stocks, and Mod Lites will again be in action. Stock Cars will also run a King of the Hill. Pits open at 4:30 p.m. and the grandstand at 5:30 p.m., with hot laps 6 p.m. and racing at 7 p.m.