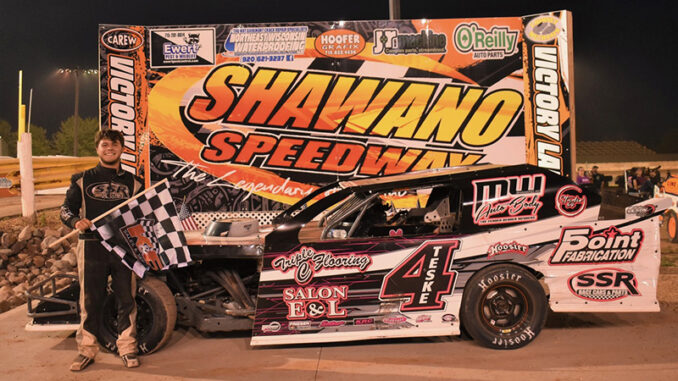 By Brandon Reichenberger
SHAWANO, Wis. (July 1, 2023) – Mother Nature provided a beautiful night for racing at the legendary half mile on Tribute to Veterans night at Shawano Speedway. Tribute to Veterans is always a special night as the track honors our American heroes and 140 veterans were on hand for a special recognition and tribute at intermission organized by Mike's Video, Trev's Trailers and B&H Racing.
Trent Nolan, Jeffery Teske and Jordan Bartz all left with bragging rights and a special Veterans Night trophy, as all three recorded a clean sweep on the evening winning both their heat and feature races.
Dylan Sexton and Shawn Wagner led the IMCA Sunoco Stock Car field to green flag for a 20-lap feature. Wagner led early but had plenty of company from Dylan Stedje and Nolan, both of whom drove past on lap two.
Nolan wasted no time putting distance between himself and the field following a lap nine restart. The beneficiary of the yellow was Kyle Frederick as he went three-wide from fourth to second.
Nolan proved to be too strong and took home the checkered ahead of Frederick and Brett Wenzel.
In the Friesen Performance IMCA Northern SportMods, the big question was would anybody be able to prevent Tyler Sobiesczyk from winning his fifth feature in a row.
Teske provided the answer, taking control despite a couple early restarts, one of those melees involving 10 cars.
Teske looked to have the race in land before another caution, with five laps left. Sobiesczyk quickly overtook Max Oreskovich for second spot and coming to the white flag, just a car length separated the front two.
Sobiesczyk sailed his no. 27 machine deep into turn three in a last-ditch effort for the win but it was not enough as Teske led every lap and brought home the feature win. Sobiesczyk settled for second followed by Oreskovich.
Bartz began a streak of her own with a second straight Friesen Performance IMCA Modified win.
Bartz wasted no time jumping out to a five car length lead and after much action behind her had Lucas Lamberies running second and looking for any opportunity.
At the white flag it was just three car lengths between the two and with Bartz approaching lapped traffic, this had the makings of a drama filled finish.
But the timing worked out just right for Bartz who caught traffic as she took the checkered flag to win for the second week in a row. Lamberies settled for second and Johnny Whitman was third.
Racing resumes Saturday July 8 at 6 p.m. sharp with Twig's Beverage night.