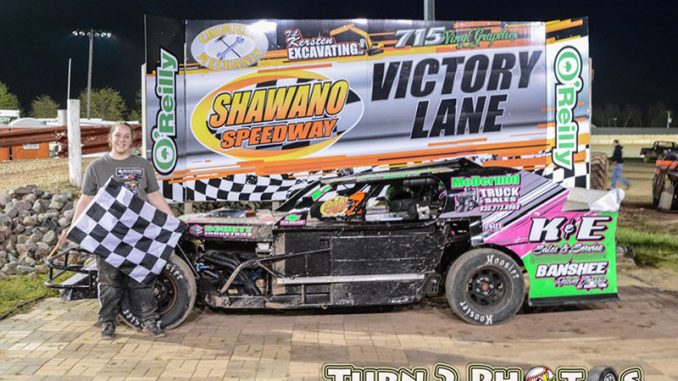 By Scott Owen
SHAWANO, Wis. (May 25) – Karl Kustoms Northern SportMod ace Jordan Bartz stole the show Saturday night with a last-lap pass for her second Shawano Speedway feature win of the year.
Bartz, racing without a left-side door panel after surviving a multi-car pileup on lap one, came from the back of the pack after repairs were made to her car by her crew on pit lane.
Most of the 24-car field was involved in that melee. Once the cars were removed from the track, a handful went to pit lane for repairs, including Bartz.
When the race resumed it was Teagan Wudstrack grabbing the lead. Jason Jach went to the high line to take the lead on lap three.
Bartz began working her way through traffic toward the front of the field. A late-race caution brought about a one-lap shootout to decide the race. Jach was committed the high side as he had been all race long while Bartz got to the inside entering turn three.
The pair was even up exiting turn four, with Bartz winning the drag race to the checkered flag. Jach, Wudstrack, Jeffery Teske and Bryce Clements completed the top five.
IMCA Modified rookie Lucas Lamberies continued to amaze with his second win in a row in only his third night in the division. Dan Michonski also made it two wins in a row in the IMCA Sunoco Stock Cars.