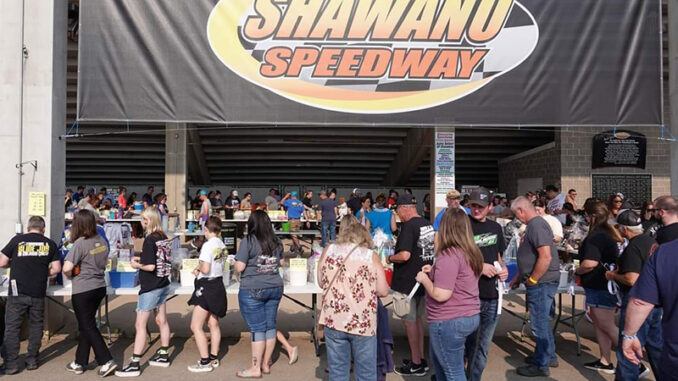 SHAWANO, Wis. (June 17, 2023) – IMCA Stock Car driver Luke Lemmens might have gone home with the big check, but the big winners at Shawano Speedway's Racing for a Reason Night were St. Vincent Hospital and the battle against childhood cancers.
The 12th annual event on June 17 brought a season-best 130 cars to the Northeast Wisconsin speed plant. Parking spots were at a premium as fans packed a very full grandstand and helped raise another $25,000 for the Child Life Services department at the children's hospital in Green Bay.
Most of $23,000 was raised selling bucket drop tickets for drawings for contents of 173 donated baskets containing everything from a television to Packer tickets to racing T shirts and a diecast of Nick Anvelink's first IMCA Modified, and another $2,000 through a raffle for a hunting rifle donated by a local gun shop.
Since 2012, $280,000 has been raised and donated to provide different items on the wish list at St. Vincent, somewhere between 80 and 90 percent of that through bucket drops.
"I get floored by the response to Racing for a Reason and the support it gets every year," said Brad Luepke, who returned to the Shawano fairgrounds and speedway this season as marketing and promotions director. "It shows what the dirt racing community is about."
"People I don't know donate four or five baskets and fans who only attend the races one night a year come of that night."
Racing for a Reason got its start when Luepke's son Reed was diagnosed with cancer in 2009 and long-time board member Alyce Welk organized the initial fundraiser.
Reed underwent four years of chemotherapy and is now a cancer survivor helping his parents Brad and Lori, sister Sydney and family friends Craig, Kay, Morgan and Madison with planning and putting on what has grown into Racing for a Reason.
"We lived it. In October of 2009 we knew nothing about childhood cancer. We learned how important something like Racing for a Reason is," Luepke said. "The cool thing about the event is that we sit down with staff at St. Vincent and they tell us their needs."
Two years of Racing for a Reason funds were used toward the purchase of an interactive TV wall. Funds raised in 2019 bought a machine used to sanitize toys without the use of chemicals, an especially timely purchase with the onset of the COVID-19 pandemic the next year.
"After we saw how it helped us, this was just something we wanted to be part of,"
said Luepke. "You get to see where the money goes and its effect when it's given to a local hospital."
"It makes you feel pretty good."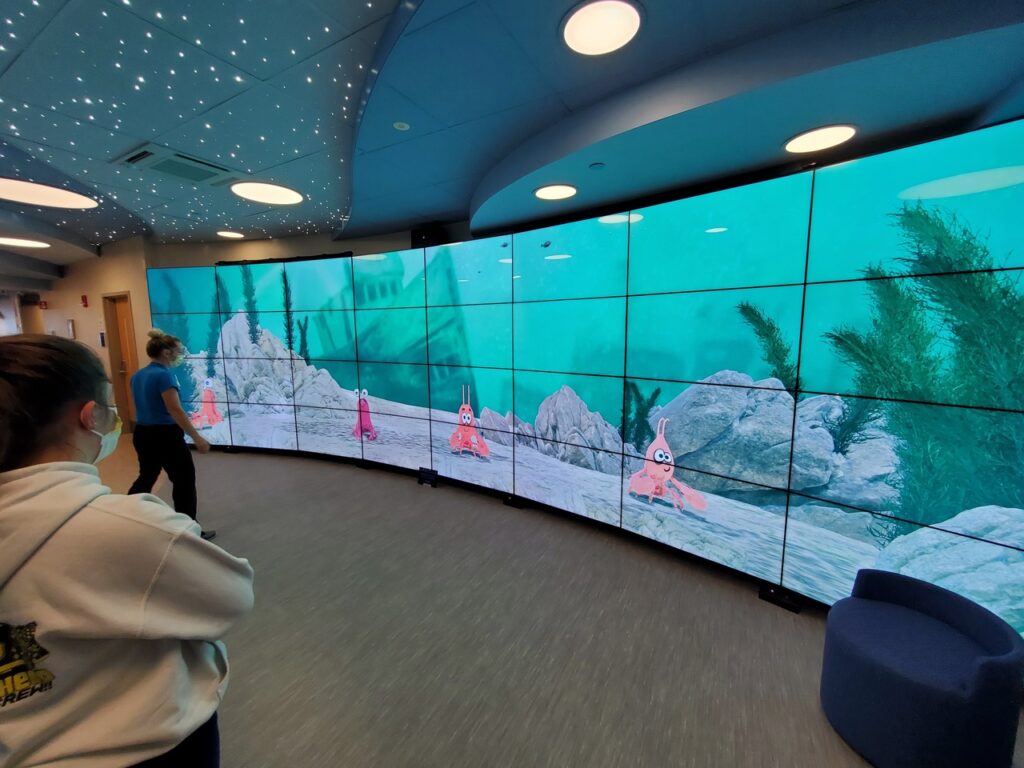 The interactive TV wall in the entryway at St. Vincent Children's Hospital was purchased in part with proceeds from two years of Racing for a Reason at Shawano Speedway. (Photo courtesy of Brad Luepke)