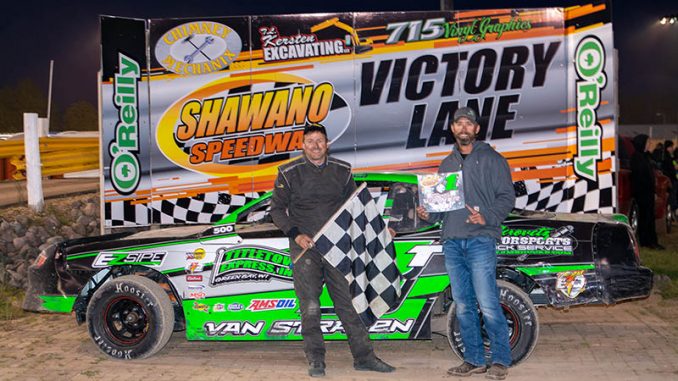 By Dave Buss
SHAWANO, Wis. (May 29) – The Memorial Weekend brought cool temperatures and hot action to the Shawano Speedway along with the unofficial start of summer. Wyatt Block, Travis Van Straten and Tyler Sobiescyk got their summers off to the best start of everyone with feature wins. 
Early action saw Jerry Wilinski jump to the lead in the IMCA Modified main and begin to build a big advantage. The caution would fly on lap four and bring the field to his bumper. On the restart, Wilinski scooted away only to have a debris bring out another yellow. 
Block and Andy Karl filled the second row on the lap six restart. Wilinski again extended his lead with Karl and Block fighting it out for the runner-up spot. Block took the second spot and begin to reel in the Wilinski machine at halfway. 
On lap 15, Block moved past Wilinski and into the lead. Block cruised to victory with Wilinski second. Jordan Bartz charged to third with Karl fourth.
Josh Mroczkowski powered to the early lead in the IMCA Sunoco Stock Car feature. Tom Riehl moved to the runner-up spot with Dan Michonski and Kyle Frederick completing the top four. Trent Nolan came from the 11th starting spot to try and grab a top five spot as lap six hit the board. 
Mroczkowski held the top spot as action was fast and furious behind him. Nolan eventually grabbed the lead but that would be short-lived as Van Straten snuck into the picture late and stole the lead with two laps remaining.
A caution as the leaders took the white flag ended the event under yellow. Nolan was second and Mroczkowski was third.
The Karl Kustoms Northern SportMods took the track with Ryan Besaw grabbing the lead from Jason Jach. Jach began to feel pressure from Jayden Schmidt as they neared halfway but maintained the runner-up spot as the caution hit the speedway. 
Besaw brought the field back to the green on lap six. Sobiescyk made his way to seventh from 17th by lap seven. Jach continued to fend off Schmidt but it was Jeffrey Teske he should have been watching as the Teske machine was powering forward. 
Schmidt hit pit lane on a lap nine caution, sending him to the back of the pack and Teske brought out the caution a few laps later, taking two contenders out in just a couple laps.
Sobiescyk grabbed the lead on lap 13 and led the rest of the way for the win. Zachary Raab took second from Ryan Besaw by an inch or two. Jach finished fourth.