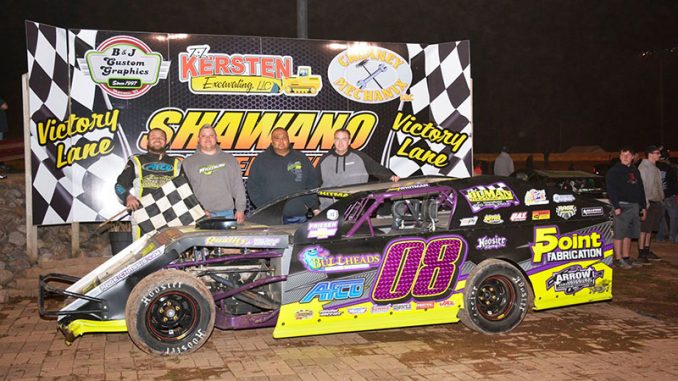 By Scott Owen
SHAWANO, Wis. (May 5) – One hundred forty-three racers were on hand to open the 2018 season at the Shawano Speedway on Saturday and Johnny Whitman won the IMCA Modified lidlifter for the second year in a row.
Joey Taycher kicked off the Modified feature by grabbing the lead on lap one. Whitman took the top spot on lap two and instantly began to pull away while Mike Mullen and Marcus Yarie began working their way through the pack.
By mid-race, Whitman had built up nearly a full straight away lead as Mullen moved to second on the track after a pass on Taycher. Lap after lap Whitman led as Mullen inched closer.
As the white flag flew, Mullen had cut Whitman's lead to a few car lengths. As the leaders dealt with lapped traffic over the final circuit, Mullen was glued to Whitman's rear bumper entering turn three. Whitman was not to be denied, though, as he beat Mullen to the checkered flag for the win. Yarie, Taycher, and Jason Czarapata completed the top five in a caution free race.
Dan Michonski redeemed himself with a last-lap pass to win the IMCA Sunoco Stock Car feature. Lucas Lamberies got to race against his former track champion father on his way to the Karl Chevrolet Northern SportMod win.