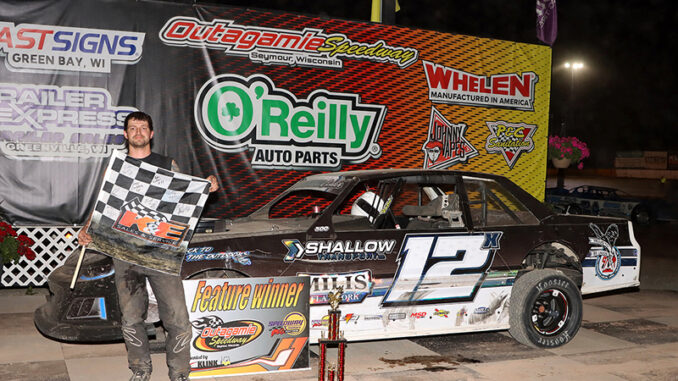 By Scott J. Owen
SEYMOUR, Wis. (June 30, 2023) – Nick Buckarma and Matthew Radtke secured their first IMCA wins of the season Friday at Outagamie Speedway.
The IMCA Sunoco Stock Car feature was intense from start to finish, beginning with a four-wide battle for the lead. Darren Otto held the initial lead but his son Nathan took the lead on lap two.
Josh Mroczkowski, Buckarma and Dan Sell Jr. soon joined the family feud for the lead. Darren Otto wrestled the lead back on lap four. Mroczkowski took his turn in the lead on lap five. It would be short-lived, however, as Darren Otto took the top spot back on the next circuit.
Darren Otto, Buckarma and Mroczkowski went three-wide for the lead on lap 10 with Buckarma gaining the lead. Benji LaCrosse soon joined the leaders as well and moved to second on lap 14.
Buckarma continued to lead but LaCrosse soon applied the pressure while running second. LaCrosse pulled to the inside of Buckarma as the duo raced side-by-side over the closing laps. Buckarma would hang on for the win as LaCrosse settled for second. Mroczkowski, Darren Otto and Chase Parker completed the top five.  
Third generation racer Jerry Vanderloop snagged the lead at the start of the Friesen Performance IMCA Northern SportMod feature.
Vanderloop stayed out front as Taylor Sorenson challenged him early. Sorenson took the lead on lap six but would only stay there for a lap as Radtke took the lead on lap seven.
Radtke would lead the duration for the win. Bernie Miller, Cory Kemkes, Sorenson and last week's winner Dylan Waldvogel rounded out the top five.
LaCrosse made it two in a row in the Friesen Performance IMCA Modified division and Thomas Schulte notched win number three in the Mach-1 IMCA Sport Compacts.  
Dan Roedl led the early stages of the Modified feature as Johnny Whitman moved to second.  Whitman used the outside groove of the track to pass Roedl on lap 5. As Whitman led, Lucas Lamberies and LaCrosse steadily worked through the field.
A late caution flag bunched the field up and wipe away Whitman's lead. LaCrosse ducked under Whitman on lap 17 to take the lead. Whitman took the lead right back on lap 18, though. Lap 19 showed LaCrosse back out front and he would stay there for the win. Whitman finished second followed by Roedl, Lamberies and Jayden Schmidt.   
Alexis Czarapata led early in the Sport Compact feature before giving way to Al Cottrell. Cottrell lead the rest of the win for what appeared to be the feature win. Cottrell, though, was disqualified in post-race inspection. Schulte was then credited with the win followed by Jake Peters, Cody Booth, Czarapata and Brett DePrez.