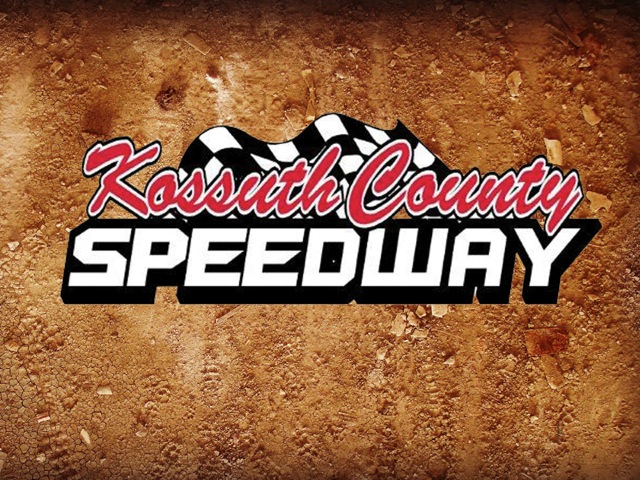 By Greg Grabianowski
ALGONA, Iowa (June 22, 2023) – McCain Jennings was not to be denied his third visit to victory lane this season at Kossuth County Speedway, when IMCA Sunoco Stock Cars took to the oval at Algona on Thursday night.
Wayne Landheer was the early leader as a great battle played out over the first half of the race with Donovan Smith and Jennings contending.
Landheer kept his no. 2 rig out front until five laps remained, when Jennings became the new leader. He then went on to capture his third win of the season at Algona as the race went green, white, checkered.
Smith crossed the finish line in second place as Landheer was third.
Cody Knecht led the first three laps before Jeremy Mills took over the lead and went onto his second local Friesen Performance IMCA Modified feature win of the season. Knecht finished second and Todd Stinehart was third.
The closest feature of the evening came in the Mach-1 Sport Compacts as Lady Eagle frontrunner Brooke Osler was the early leader before Lucas Parsons came calling.
The two were door-to-door with two laps remaining. Parsons grabbed the lead coming out of the turn two with one lap to go and went onto his second feature win of the year in another caution-free race.
Osler held on for second place as Charles Prime was third.
The Friesen Performance IMCA Northern SportMods saw Richard Fish lead early before a lap two yellow. Off the restart, Jarrett Franzen became the new leader as Matt Looft and Franzen broke away from the field with Franzen on the low side and Looft running up top.
Looft finally got the lead with four to go and went onto his fifth feature win of the season at the track. Franzen came home in second place followed by Alec Fett.
The IMCA Sunoco Hobby Stock feature was led early by Cody Hubbell before Chris Krug took over the first spot on lap number three and cruised to his second win of the season at the track.
Hubbell had a good run to take the runner-up spot as Brandon Nielsen prevailed in a good battle for third.