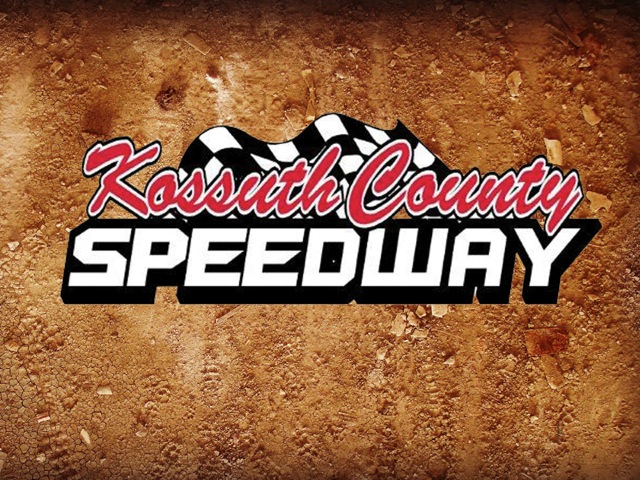 By Greg Grabianowski
ALGONA, Iowa (July 11) – They did it in different fashion, but both had $1,000 paydays as Devin Jones and Colby Fett won features at the Kossuth County Speedway Thursday night.
Jones led almost the whole way in the in the Bayer Crop Science Bumble Bee Nationals Mach-1 Sport Compact main event while Fett only led two laps, but they were the most important laps to take the resched­uled Wyffels Hybrids special for Karl Kustoms Northern SportMods.
A season-high car count of 100 was on hand, including 25 SportMods and 21 Sport Compacts.
After a complete restart in the 4-cylinder event, Jones grabbed the early lead and held that advantage most of the race. With five laps to go, Nate Coopman took over as the new leader.
Jones stayed right with Coopman and came across the finish line for the double checkered flags less than a car length ahead. Jarad Gross was third, Oliver Monson fourth and Matt Baker fifth.
Hard charger Jade Lange started 19th and finished sixth.
Pole starter Doug Cook survived five caution flags and the ensuing restarts in leading the first 20 laps of the Northern SportMod feature.
The sixth yellow was the one that hurt Cook as one lap later Matt Looft took over as the new leader. Two laps later, Fett wrestled the lead away from Looft just before the white flag came out and won his third feature of the season at the track.
Looft was the runner-up with Cook third, George Nordman fourth and Alec Fett fifth. Hard charger Carter Shumski went from 25th to 14th.
The SportMod special had been rained out and rescheduled from July 4.
Nick Meyer was the winner of an IMCA Modified feature that ran green to checkered and Chad Palmer paced the IMCA Sunoco Stock Cars. Cody Nielsen scored the IMCA Sunoco Hobby Stock victory.
Feature Results
Sport Compacts – 1. Devin Jones; 2. Nate Coopman; 3. Jarad Gross; 4. Oliver Monson; 5. Matt Baker; 6. Jade Lange; 7. Bubba Brown; 8. Terry Blowers; 9. Tyler Fiebelkorn; 10. Neil Forsberg; 11. Joe Bunkof­ske; 12. Justin Nielson; 13. Sam Umbarger; 14. John Holt; 15. Jerry Coopman; 16. Lucas Parsons; 17. Josh Modde; 18. Cory Peters; 19. Kaytee Devries; 20. Ryan Bryant; 21. Adam Gates.
Northern SportMods – 1. Colby Fett; 2. Matt Looft; 3. Doug Cook; 4. George Nordman; 5. Alec Fett; 6. Jason Baas; 7. Josh Appel; 8. Nate Whitehurst; 9. Justin Klynsma; 10. Robb Nutt; 11. Jared Boumeester; 12. Carter VanDenBerg; 13. Troy Krug; 14. Carter Shumski; 15. Jake Simpson; 16. Justin Raymond; 17. Zach Davis; 18. Drew Fett; 19. Dallas Nutt; 20. Chris Myhre; 21. Kevin Wiemers; 22. George Gilliland; 23. Ger­ald Curry; 24. Devin Fish; 25. Richard Fish.
Modifieds – 1. Nick Meyer; 2. Kelly Shryock; 3. Cody Knecht; 4. Mat Hollerich; 5. Rob Hughes; 6. Ryan Ruter; 7. Ben Schultze; 8. Jeremy Mills; 9. Austin Wolf; 10. Ben Kraus; 11. Jeff Feaster; 12. Bradie Becker; 13. Jayden Larson.
Stock Cars – 1. Chad Palmer; 2. Derek Green; 3. Kelly Shryock; 4. Calvin Lange; 5. David Smith; 6. Colby Klaassen; 7. Jake Masters; 8. Austin Brands; 9. Austin Jahnz; 10. Bruce Wickman; 11. Chanse Hol­latz; 12. Dan Hanselman; 13. Kevin Opheim; 14. Heath Tulp; 15. Wayne Landheer; 16. Gary Pesicka; 17. John Wiemann.
Hobby Stocks – 1. Cody Nielsen; 2. Brandon Nielsen; 3. Bryce Sommerfeld; 4. James Burns; 5. Jay Si­dles; 6. Josh Sidles; 7. Chad Krug; 8. Myles Koob; 9. Charlie Stevens; 10. Steve Wickman; 11. Doug Wick­man; 12. Gavin Jorgenson; 13. Jamie Weishaar; 14. Sarah Stewart; 15. Chris Krug; 16. Josh Lyon; 17. Kyle Sidles; 18. Tim Sidles; 19. Connor Smith.