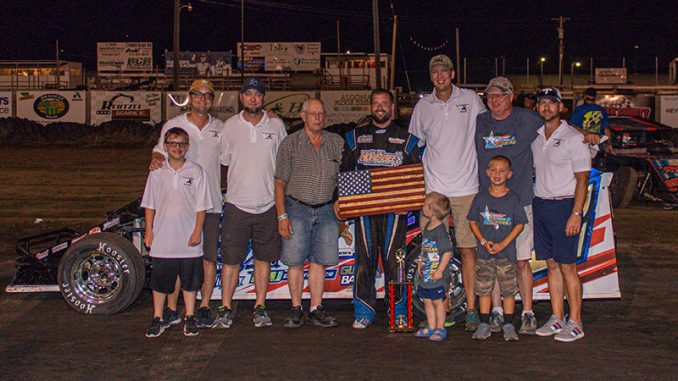 By Greg Grabianowski 
ALGONA, Iowa (July 18) – On a night that Kossuth County Speedway in Algona saluted our country's veterans, Nick Meyer and Kelly Shryock came home with big paydays as each driver paced $2,000 to win IMCA features.
The winner at Algona and at Hancock County Speedway the previous weekend, Meyer raced to his third straight IMCA Modified victory while putting his name of the Fast Shafts All-Star Invitational ballot.
D.J. Shannon had taken advantage of his pole start in the Beck Seeds $2,000 to win event and led early. Meyer took over the top spot after midway and held on to win for the second straight week.
Shryock had a solid run in his no. 3 rig to finish second with Shannon taking third as Todd Shute was fourth and Jeff Feaster was fifth.
Derek Green and Scott Davis led the IMCA Sunoco Stock Car field to green. Green grabbed the early advantage, then wrestled it back from Luke Sathoff.
Green's night ended with a flat tire. Shryock became the new leader and had Brian Blessington nipping at his back bumper to the finish of the Altenburg Construction-sponsored feature.
Blessington was the runner-up with Sathoff third and Randy Brands fourth. Curt Lund was fifth.
A season-high 119 cars saw action at Algona and approximately 275 men an women who served in the armed forces received free admission to the Salute to Veterans program.
Zack Smidt made an impressive first appearance at Kossuth County Speedway, topping the IMCA Sunoco Hobby Stock feature.
Josh Appel picked up the Karl Kustoms Northern SportMod victory and Kaytee DeVries collected the Mach-1 Sport Compact checkers.
Feature Results
Modifieds – 1. Nick Meyer; 2. Kelly Shryock; 3. D.J. Shannon; 4. Todd Shute; 5. Jeff Feaster; 6. Austin Wolf; 7. Ben Schultze; 8. Jason Briese; 9. Al Hejna; 10. Mat Hollerich; 11. Ben Kraus; 12. Chris Palsrok; 13. Cody Knecht; 14. Bradie Becker; 15. Shane DeMey; 16. Stacey Mills; 17. Douglas Rivera; 18. Ethan Dotson; 19. Ryan Ruter; 20. Brandon Beckendorf; 21. Jeremy Mills.
Stock Cars – 1. Kelly Shryock; 2. Brian Blessington; 3. Luke Sathoff; 4. Randy Brands; 5. Curt Lund; 6. Derek Green; 7. Mitch Dowhower; 8. Calvin Lange; 9. Scott Davis; 10. Jake Nelson; 11. Craig Berhow; 12. Andrew Borchardt; 13. Tim Pessek; 14. Chanse Hollatz; 15. Ned Kalis; 16. Kevin Opheim; 17. Elijah Zevenbergen; 18. Jake Masters; 19. Dan Hanselman; 20. Shawn Ritter; 21. Jeff Larson; 22. Chad Schroeder; 23. Bruce Wickman; 24. John Wiemann.
Hobby Stocks – 1. Zack Smidt; 2. Cody Nielsen; 3. Josh Sidles; 4. Kyle Sidles; 5. Jay Sidles; 6. Dillon Magnussen; 7. Bryce Sommerfeld; 8. Doug Wickman; 9. Chris Krug; 10. Connor Smith; 11. Chad Krug; 12. Drew Barglof; 13. Myles Koob; 14. Ben Peterson; 15. Brandon Nielsen; 16. Charlie Stevens; 17. James Burns; 18. Sarah Stewart; 19. Tim Sidles; 20. Austin Pinney; 21. Josh Lyon.
Northern SportMods – 1. Josh Appel; 2. Doug Cook; 3. George Nordman; 4. Matt Looft; 5. Johnathon Logue; 6. Colby Fett; 7. Jake Sachau; 8. Jake Simpson; 9. Jeff Carter; 10. Ronnie Hults; 11. Christian Sylvester; 12. George Gilliland; 13. Jacob Tacheny; 14. Frank Packer; 15. Alec Fett; 16. Gerald Curry; 17. Devin Fish; 18. Brandon Ostwald; 19. Kent Haugland; 20. Jeramie Faber; 21. Kevin Wiemers; 22. Justin Bettin; 23. Richard Fish.
Sport Compacts – 1. Kaytee DeVries; 2. Lucas Parsons; 3. Jade Lange; 4. Justin Nielson; 5. John Gill; 6. Oliver Monson.