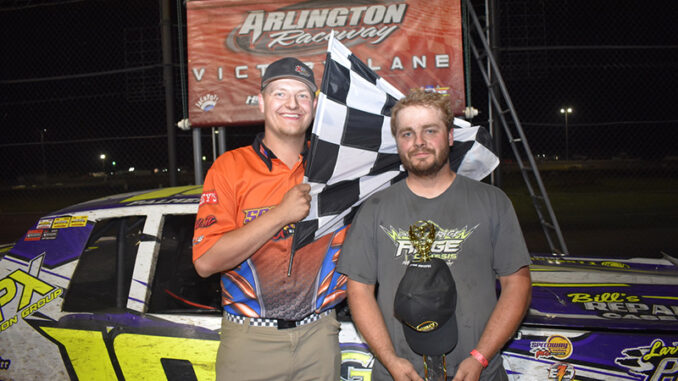 ARLINGTON, Minn. (June 17, 2023) – Another first-time IMCA Sunoco Stock Car winner made his way to victory lane at Arlington Raceway Saturday night.
Dan Eckblad got the lead back coming out of the final turn and took the checkers inches ahead … some 17 thousandth's of a second scored electronically … ahead of Josh Larsen.
"It was pretty cool," said Eckblad, who followed father Daniel and uncle Darrell into the sport and earned the first win for the St. Peter based family of racers. "Arlington is about 20 minutes from home and it's our home track."
"A lot of years racing and a lot of hard work went into this."
The feature went flag-to-flag with three lead changes. Ryan Grochow was the early leader as he held off Eckblad the first four laps before Eckblad got under him and took the lead.
Soon, Eckblad had the company of Larsen as the two raced side-by-side for several laps. Each time they came to the finish line, Larsen was in front of Eckblad and was leading going into the final set of turns.
Eckblad had his sights on the trophy as he pulled ahead just by inches to win. Larson took second and Dan Mackenthun took third ahead of Chad Schroeder.
Eckblad had run the Stock Car from 2011-1014 took the next three seasons off before getting back in the class in 2018. He'd had "three or four" second place finishes at Princeton and Hancock County and a career-best fourth place showing at Arlington prior to Saturday.
"It means a lot when you can beat guys at Arlington who have won so many races," said Eckblad, who celebrated his own win quietly at the track with wife Ashley and crewman Alex Evers. "It was pretty sweet."
That first feature win trophy is now displayed in son Tyson's room. Family that was camping and not at the track got to watch the race on IMCA.TV.
Luke Trebelhorn had become a first-time winner in the class the previous Saturday.
Cory Probst won the IMCA Sunoco Hobby Stock feature from 11th starting while Trevor Serbus and Matthew Looft both won from ninth in the IMCA RaceSaver Sprint Cars and Friesen Performance IMCA Northern SportMods, respectively.
Clint Hatlestadt topped the Friesen Performance IMCA Modified main from seventh and Alan Lahr raced his way to the front late in winning the Mach-1 IMCA Sport Compact headliner.