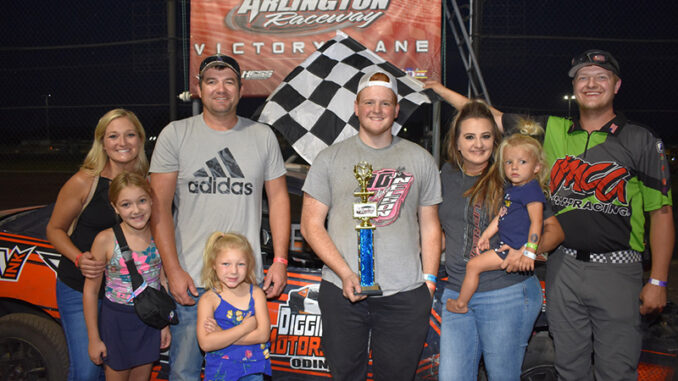 ARLINGTON, Minn. (Aug. 5, 2023) – The Sibley County Fair races provided three- and four- and even five-wide racing throughout the night in all divisions for the fans to enjoy Saturday at Arlington Raceway.
The first feature saw Ben Davis lead the first four laps of the IMCA Sunoco Hobby Stock main but coming out of turn four he lost control of his car and allowed Cory Probst to take the lead from his 10th place start.
Davis and Taylor Manderfield then had a good battle but Davis slid up and Manderfield was able to gain a position. On the next lap, Dan Probst was able to glide by both of those cars to take second behind son Cory. In the end, Cory Probst wins another feature with his dad taking second and Manderfield third.
The Mach-1 IMCA Sport Compacts saw five-wide racing for the first lap until the field spread out and then again after a restart.
Kevin Bolte then took the lead and led the rest of the way to win his first feature. Alan Lahr took second and Justin Dose was third.
The Friesen Performance IMCA Northern SportMod feature saw plenty of action.
On the first lap, Zachary Malchow got too high and spins off of turn three while the cars of Matthew Schoenke, Charlie Rustman and Ben Reierson got collected in turn four. Reierson went to the pit area but the others resumed the race.
Joey Reimers was the early leader but got too high in turn four and lost positions while Zach Davis took over. That was only for short time as he and Matt Looft raced side-by-side for several laps. In the end, Looft pulled ahead to win, Davis settled for second and third went to Jeff Carter.
IMCA RaceSaver Sprints were slicing and dicing throughout the 17-car field. The early leader was Matt Johnson but after owning the front spot for three laps, Owen Carlson got by him and stayed in front the rest of the way.
Brandon Buysse got by Johnson to get second with three laps remaining.
Looft made it two in a row as he started in the third row and by the time the IMCA Sunoco Stock Car field hit the flag stand again he was leading the race. He led the entire 20 laps while the battle behind him saw Tim Pessek holding off Dan Mackenthun and Matt Speckman for the second position.
On the white flag lap, Speckman pushed the pedal and got around Mackenthun to take third.
There were three different leaders in the Friesen Performance IMCA Modified feature with Jason Schroeder leading the first lap before Chad Porter got underneath to gain the top spot.
Clint Hatlestad was picking cars off lap by lap and by lap eight he was leading. Dan Menk drove the high side of the track and gained second but didn't have enough time to catch Hatlestad.