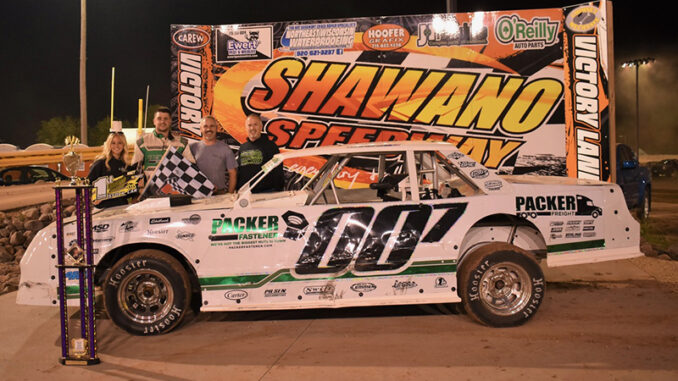 By Brandon Reichenberger 
SHAWANO, Wis. (June 17, 2023) – Luke Lemmens ran the top side to perfection in the late going, earning the IMCA Sunoco Stock Car win and $4,000 at Shawano Speedway's Racing For a Reason.
The 12th annual special benefits the battle against childhood cancer and a season-high 130 entries, 33 of them Stock Cars, checked in at the legendary half mile.
Chucky Forstner and Lemmens led the field to the green and early on it was Lemmens running the high side and Forstner down low, racing side-by-side with Tyler Wilson following closely behind. The two drivers on the move were Trent Nolan, who started seventh, and Travis VanStraten, who started 11th. By lap five, both had worked their way into the top five.
A restart was exactly what VanStraten wanted to see as he lined up right on Lemmens' back bumper.
VanStraten was scored first across the stripe on lap 10 but Lemmens take the lead right back on lap 11.
Lap after lap, Lemmens and VanStraten raced door-to-door with the $4,000 payday on the line with a great three-way battle for third behind them between Forstner, Nolan and Jared Siefert.
VanStraten again used the bottom side to lead lap 17 but Lemmens once again took it back on lap 18. The class they call Too Tough To Tame showed exactly why with this fantastic battle between the two stock car veterans.
With two laps left it was just half a car length separating the front pair at the line. VanStraten made one last effort to get by but it was Lemmens running the top side to perfection to collect the $4,000 payday and B & B Racing Chassis All-Star qualifying eligibility.
VanStraten came home second followed by Forstner, Nolan and Siefert.
Wyatt Block was the Friesen Performance IMCA Modified winner and Tyler Sobiesczyk ruled the Friesen Performance IMCA Northern SportMods.
Racing action at Shawano resumes Saturday, June 24 with $1,000 and Fast Shafts All-Star Invitational qualifying eligibility on the line for the IMCA Modifieds on kids' coin drop night starting at 6 p.m. sharp.