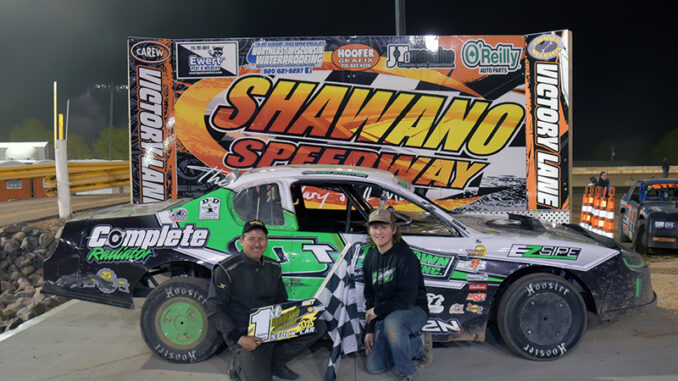 By Don Rouse
SHAWANO, Wis. (May 20, 2023) – On a gorgeous Saturday evening the newly redesigned victory lane at Shawano Speedway powered by Auto Select saw many familiar faces return for week two.
Unfortunately, one familiar face we won't see but will always be here is Donna Dorn who lost her battle to cancer. Her presence and compassion for her favorite drivers and track will forever be with us.
In the early laps of the feature for the class called Too Tough To Tame, several IMCA Sunoco Stock Car drivers found out how tough it was. A nasty crash on the backstretch found Anthony Kotula, Kyle Fredrick, Dan Michonski, Brad Nelson, Jordan Barkholtz, Mitch Stankowski, Tyler Welch all tangled in a wreck. As the caution came out and safety crews attended to the drivers involved with no reported injuries to the drivers there sure was a lot of twisted up sheet metal on the cars involved in the crash.
As racing resumed, Vern Stedjee held off the hard-charging Tyler Wendt followed by Trent Nolan, Jeremy Christians and Travis Van Straten. Those five battled until two laps remained and Van Straten drove his 2T machine hard into the bottom of turn three and four and made it stick, passing Stedjee for the lead.
Van Straten went on to take the victory, his second in as many weeks at Shawano.
Kevin Feck showed he is a force to be reckoned with as he quickly jumped out to a commanding lead on lap 1 of the Friesen Performance IMCA Modified feature.
A couple cautions later and Lucas Lamberies, Konnor Wilinski and Marcus Yarie were all battling for position behind Feck. The hard-charging feature winner from 1 week ago Johnny Whitman was quickly making his way to the front after starting deep in the field.
But nobody had anything as Feck wouldn't be denied the victory and went on to drive into the beautiful, newly renovated victory lane.
And in the Friesen Performance IMCA Northern SportMods, Michael Spingborn led the opening laps from his front row starting spot. Cole Slezewski, Hollie Welch, Travis Rhodes, Bryce Clements and Jerry Vanderloop made up the first three starting rows.
It was Springborn, and Vanderloop who would start battling for the top spot. At approximately the half way point, Jeffery Teske was bound and determined to get to the front. Teske got by Springborn, Clements and eventually Vanderloop in the closing laps to make his way to victory lane.