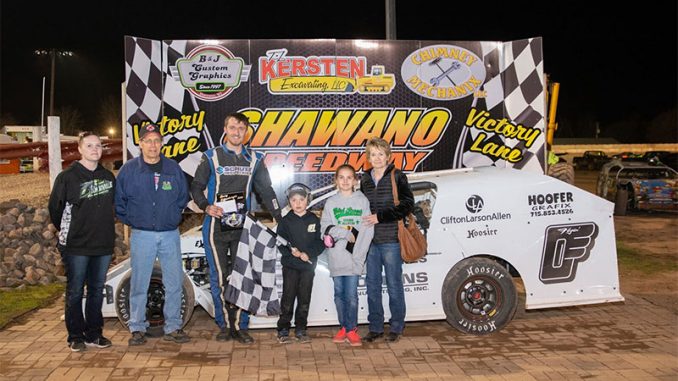 By Scott Owen 
SHAWANO, Wis. (May 4) – Lucas Lamberies may be a rookie in the IMCA Modified division, but the three-time Karl Kustoms Northern SportMod champion certainly knows his way around the Historic Half-mile.  
Lamberies showed that the change in division was no obstacle in winning races as he outdueled his good friend Wyatt Block with a last-lap pass for the feature win Saturday at Shawano Speed­way. 
Block battled Brekken Kleinschmidt side-by-side for the first two laps with Kleinschmidt leading lap one while Block led lap two by a bumper.  Lap three saw Block begin to put some distance between himself and the field. 
With Block leading, the action behind him was hot between Kleinschmidt, Konnor Wilinski, Lamber­ies, and Marcus Yarie. Lamberies, Kleinschmidt, and Wilinski exchanged second through fourth numerous times throughout the race as Block looked to be in control.  
A late-race caution flag brought out a restart with only three laps remaining. Over the final two laps, Lamberies went to the high side of the track and ran down Block. A slight bobble by Block in turn four on the final lap gave Lamberies the opening he needed as he pulled even with Block. 
It was a drag race to the checkered flag with Lamberies winning by the slightest of margins. Block had to settle for second.  
In other action, perennial winners Dan Michonski and Jordan Barkholtz scored their first IMCA Sunoco Stock Car and Northern SportMod wins, respectively, of the season.  
Friends and family of longtime race enthusiast Gary Effenberger, honored him with the Gary Effen­berger Memorial as racers received extra money and plaques for the top three feature finish­ers in Gary's memory.