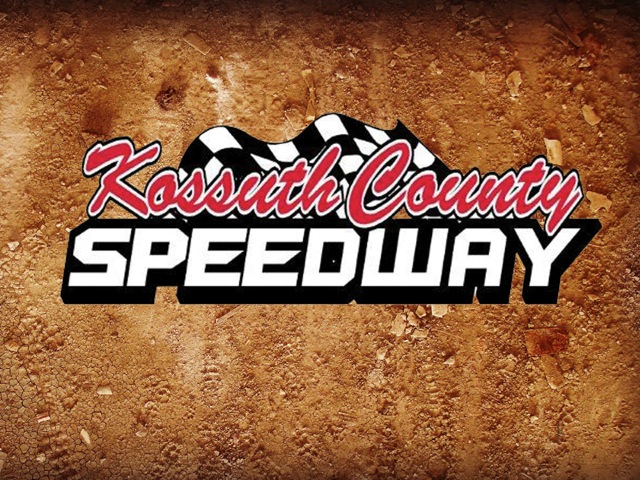 By Greg Grabianowski
ALGONA, Iowa (May 25, 2023) – Oliver Monson won his third straight feature while Matt Looft won for the second time this summer to highlight Night No. 3 at Kossuth County Speedway on Thursday.
Monson won his third consecutive Mach-1 IMCA Sport Compact feature, starting this one from the inside of the third row, but got a great start as he led all eight laps as the race went green, white, checkered. Lucas Parsons kept things interesting to take second but could not pass Monson and Charles Prime finished in third place.
Looft had to work much harder to get his second Friesen Performance IMCA Northern SportMod win of the season, coming from the outside of the fifth row for the win.
Polesitter Alex Smith held the lead the first part of the race. The caution flag appeared on lap six and was followed by another yellow flag off the restart. Smith stayed in front coming off the restart and led the next three circuits before Looft took the lead with six laps remaining.
Justin Raymond had a nice run to place second with Charlie Stevens third.
Cody Knecht started on the inside of the front row in the 20-lap Friesen Performance IMCA Modified feature and led the laps as the only yellow flag came on lap 14.
A great battle for second place behind Knecht between Todd Stinehart and Jeremy Mills kept the heat on Knecht, but the Whittemore driver was up to the task this evening to capture his first feature win of the season.
Stinehart came in as the runner-up as Nick Meyer took third.
The IMCA Sunoco Stock Car feature began with a complete restart as Clay Evans grabbed the early lead after the completion of the first lap. Kevin Opheim piloted his new black-and-white colored car into first place on the third lap and a yellow flag came out two laps later.
The caution flag reappeared on lap seven and again three laps later as McCain Jennings became the new leader off the second restart and went on to the win in a new car after being upside down in turn number four last week.
Opheim finished second with Chad Palmer in third.
Polesitter Dan Hanselman took the lead immediately in the IMCA Sunoco Hobby Stock feature. Hanselman looked good out front as Brandon Nielsen slowly reeled him in as the race went on.
Hanselman continued to lead for the first 13 laps before Nielsen wrestled away the lead with two laps to go and went onto feature win as the race went green, white, checkered.
Mike Smith came across the finish line in second place followed by Hanselman.