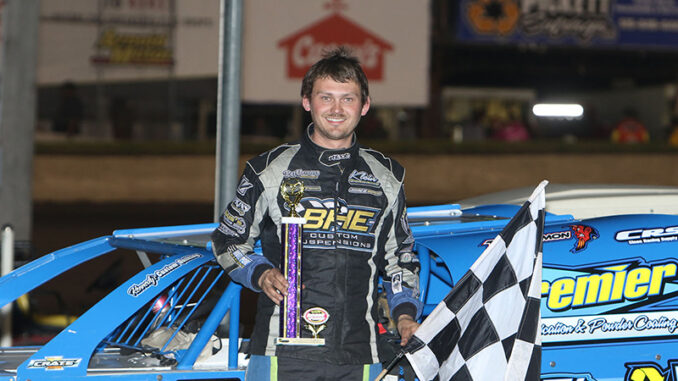 By Joyce Eisele
BOONE, Iowa (May 20, 2023) – Jake McBirnie hotshoed it all the way from 19th to win the Friesen Performance IMCA Modified feature on a beautiful Saturday night for racing at Boone Speedway.
Nick Roberts jumped to the lead from his outside front row starting spot when the green flag flew. Izac Mallicoat started third and tucked in behind the leader. A caution flew on lap 13 and on the restart, Todd Shute got around Mallicoat to take over the second spot.
A couple laps later, bad luck would bite Shute when he spun in corner one. As the restart of that caution went green, suddenly it was McBirnie sitting in second place after making his way from the 19th starting spot.
A lap later, McBirnie threw a perfectly executed slider in turn two and had the lead with three laps remaining. It was all McBirnie's race the final circuits as he captured his first win at the track this season.
Mallicoat kept second place, third went to Nick Roberts, veteran Russ Dickerson was fourth and Jimmy Gustin came from 15th to take fifth.
David Bailey looking strong in the early going of the Stealth Racing IMCA STARS Mod Lite feature and was still at the helm when a red flag came out at lap eight when Erick Knutsen took a violent roll in turn four. Thankfully, he was okay.
When the race went back to green flag racing, Bailey was still holding on to the top spot, but that run would be short-lived. Bad luck reared its ugly head on lap 10 when his car went spinning just after the lap was completed.
This handed the lead over to Austin Gray and that was a lead he would hold the remainder of the way to the flying checkers and the win. Riley Clem, the Bakersfield, Calif., racer who is back here racing for the summer, came from ninth to finish as the runner up. Third went to 10th place starter Josh May, Randy Bryan finished fourth and Garrett Stonum completed the top five.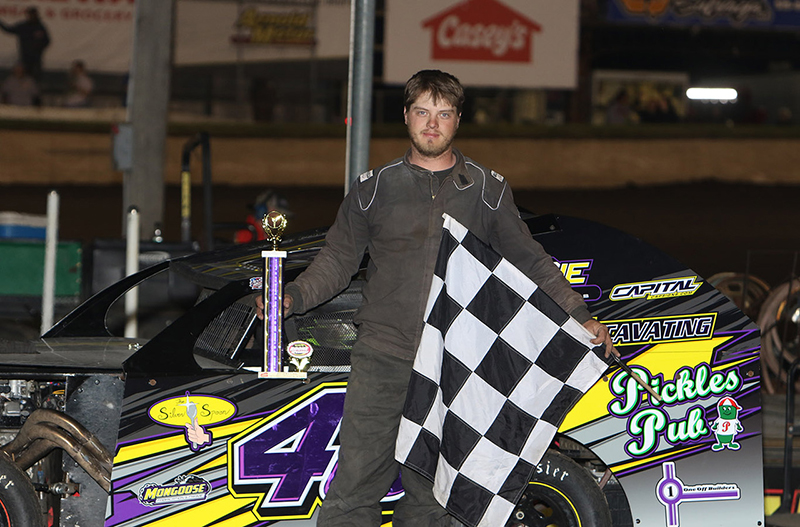 Austin Gray was the Stealth Racing IMCA STARS Mod Lite winner Saturday at Iowa's Action Track, Boone Speedway. (Photo by Bruce Badgley, Motorsports Photography)
A new face stepped into the winner's circle at the Boone Speedway in the Friesen Performance IMCA Northern SportMods when Matt Avila scored the win.
Avila led all 18 laps of the feature event.  This one had its issues with numerous yellows flying but it didn't deter Avila as he captured his first win at the track. Cam Reimers chased Avila for most of the race but had to be content with second place. Third went to 12th place starter Cole Fenske, fourth was Braden Richards, and Dusty Masolini was fifth.
Devin Smith had little trouble in taking home the trophy in the IMCA Sunoco Stock Car 20 lap feature.
He started fourth, took command on lap three after getting around then leader Michael Smith (no relation) and from there on out, never looked back.
Brother Donavon Smith came from ninth to finish as the runner-up. Austin Bouzek got around Michael Smith in the dash to the checkers, as they finished third and fourth respectively. David Smith made it a family affair as brother number three took fifth.
The IMCA Sunoco Hobby Stocks ran a 15 lap feature and it was another Smith family member in Victory Lane. Mike Smith, son of David, took the win. Smith started 11th, ran down then leader Riley Christensen and had the lead on lap seven.
He would pull away in the closing laps and take the comfortable win. Trailing a distant second was eighth place starter Eric Knutson, Eric Stanton came from 16th to finish third, John Watson finished fourth and early leader Christensen rounded out the top five.