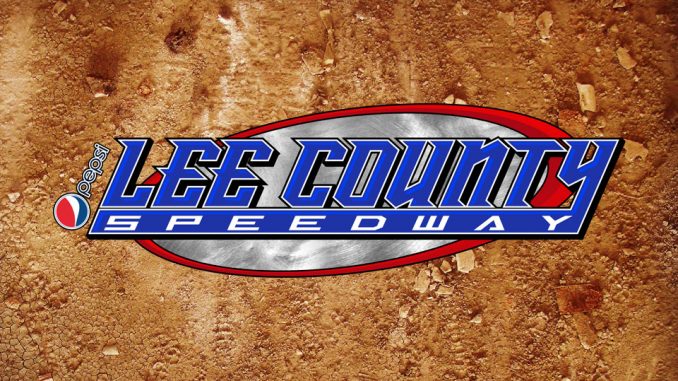 By Brian Neal
DONNELLSON, Iowa (May 19, 2023) – Jeff Guengerich won for the first time this season at Lee County Speedway in the Friday night IMCA Sunoco Late Model feature.
Guengerich and Jeremy Pundt drew the front row for the 25-lap main event, with Guengerich grabbing the top spot on lap one over Denny Woodworth and Pundt. Action was slowed on lap two for a spinning car and Guengerich jumped back out front on the restart, with Andy Nezworski and Woodworth close behind.
Another caution on lap five slowed the action and again Guengerich grabbed the lead on the restart, with Nezworski and ninth place starter Tommy Elston following.
The final caution of the race appeared on lap 12: Guengerich again jumped out front on the restart, with Nezworski and Chuck Hanna challenging. Coming to the white flag Guengerich encountered lapped traffic, which allowed Nezworski and Hanna to close in on his back bumper.
But the lapped car didn't slow Guengerich down as he went on to score his first win of the season at Donnellson. Nezworski was second, Hanna was third, Elston was fourth with Woodworth holding on for fifth.
Peter Stodgel and Jerry Jansen made up the front row for the IMCA Sunoco Stock Car main. Jansen led lap one, only to lose the top spot to Pundt on lap two.
While Pundt paced the field out front, Jason Cook, who started eighth, and Cole Mather, who started 10th, were working their way up to challenge Pundt for the lead. With Cook trying to work under Pundt, Mather decided to use the middle of the track to try and get the lead.
Coming off turn to for the checkered flag, Mather was able to get up beside Pundt. Mather then edged out Pundt and Cook at the line to claim his first win of the season at the track. Dakota Simonsen finished fourth with Derrick Agee fifth.
The final feature to take to the track was the Friesen Performance IMCA Northern SportMod go, with Brandt Ames and Brandon Lambert on the front row. Lambert used his starting spot to his advantage by grabbing the lead over Ames and Kyler Girard.
Early battles throughout the field were slowed by a caution on lap two. On the restart, Girard slipped past Lambert for the top spot, only to lose it one lap later to 10th place starter Brayton Carter. Carter went three-wide through the middle to get the lead before lap five and six yellows.
Carter jumped back out front on both restarts, with Brandon Dale, who started eighth, and Carter VanDenBerg, who started 12th, giving chase.
Neither driver could mount a challenge over the final laps however, as Carter went on to score his third win of the season at the track. Dale was second, VanDenBerg was third, John Oliver Jr. finished fourth and Nicholas Profeta was fifth.