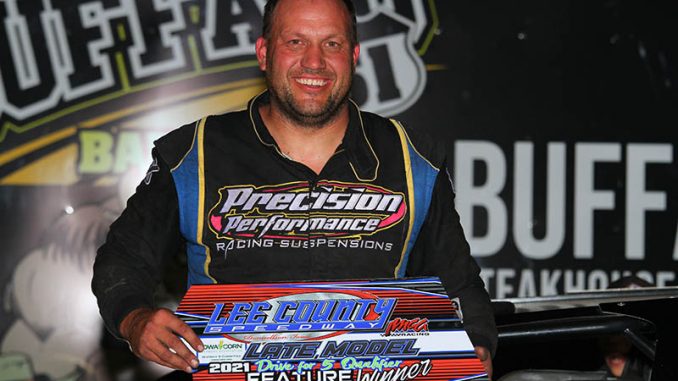 By Brian Neal
DONNELLSON, Iowa (Aug. 6) – Andy Eckrich won for the first time this season at Lee County Speedway Friday night, on the final night of Iowa Corn Growers Association Drive For 5 qualifying for IMCA Sunoco Late Models.
Dave Eckrich and Chris Horn drew front row starts for the 25-lapper and Eckrich used the favorable position to grab the lead on lap one over Dustin Griffin and brother Andy, who started eighth.
One lap later, Andy Eckrich overtook Griffin for the runner-up spot and went to work on his brother Dave for the lead. Andy looked under the leader coming off the corners for the next 10 laps but Dave was able to hold him off at the line each trip around the 3/8th's mile oval.
Then, coming off turn four to complete lap 13, Andy Eckrich was finally able to get under Dave Eckrich to grab the top spot. Dave tried to keep pace over the final half of the race but even with lapped traffic, Andy was able to hold off all challenges in the caution-free race to pick up the $1,000 win.
Tommy Elston finished third, Griffin was fourth with Andy Nezworski finishing fifth.
Cayden Carter, already Fast Shafts All-Star Invitational eligible, was the $1,000 IMCA Modified winner.
Lee County Speedway will be idle this week for the Sweet Corn Festival but will return to action on Friday, Aug. 20 with Drive For 5 Finale for IMCA Modified. Sixteen IMCA Modified drivers will have a chance to take home a top prize of $5,000 if they can win the feature event. If none of them are able to get the job done, the winner will still take home a top prize of $2,000.
More information about this event will be released soon.
Late Model feature results – 1. Andy Eckrich; 2. Dave Eckrich; 3. Tommy Elston; 4. Dustin Griffin; 5. Andy Nezworski; 6. Dennis Woodworth; 7. Gary Webb; 8. Justin Kay; 9. Kirby Schultz; 10. Mark Burgtorf; 11. Darrel DeFrance; 12. Sam Halstead; 13. Jay Johnson; 14. Chris Horn; 15. Matt Strassheim; 16. Darin Weisinger Jr.; 17. Austin Townsend; 18. Ray Raker; 19. Ron Boyse; 20. Nick Marolf; 21. Jeremy Pundt.