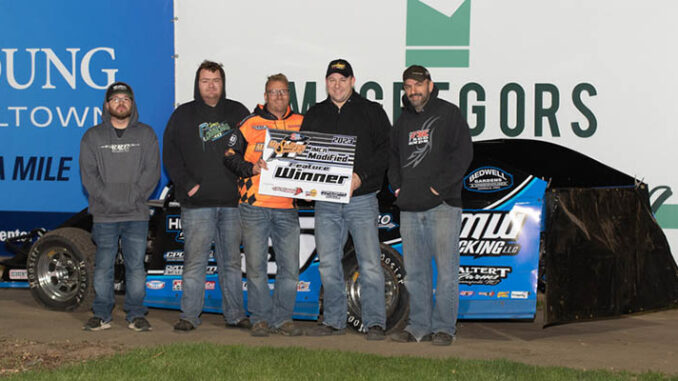 By Joyce Eisele 
MARSHALLTOWN, Iowa (April 28, 2023) – Marshalltown Speedway sprang back to action on Friday night with their season points opener. A threat of rain was in the forecast but a field of 118 cars and the show they put on won out.
The Friesen Performance IMCA Modified 20-lap feature gave the fans their money's worth as Dallon Murty and Todd Shute put on quite a show. Murty started second, and immediately took over the top spot and Shute soon tucked on to Murty's tail after starting third.
Then the two began the show for the fans as lap after lap, Murty held court on the top of the track and Shute looking under him went at it. It was a relentless battle between the two with Murty managing to keep the upper hand as each lap was scored. That is, until Shute's persistence paid off at the line with one lap to go, as he was scored the leader.
Shute then kept the top spot the final circuit to take the win with Murty an ever so close second. Jake McBirnie put his ride into third, overtaking Jerry Flippo in the closing laps, and Jesse Dennis was fifth.

Kyle Olson led all laps on his way to the flying checkers in the Friesen Performance IMCA Northern SportMod feature.
Olson started on the pole and held off seventh place starter Travis Peterson, who finished as the runner-up. Jenae Gustin took third, followed by Braden Richards and Kaylin Lopez.
Austin Kaplan started third and had the lead by the time lap one was scored. From there on he never looked back on his way to the checkers IMCA Sunoco Stock Car.
He did have big time company dicing it out hot and heavy behind him, however, with Michael Jaennette, Steve Meyer, Dan Mackenthun and Dave Atcher duking it out.
When the dust settled, it was Mackenthun capturing the runner-up spot. It was a fierce battle for the next positions as well, with Meyer taking third, Atcher was fourth and Jaennette rounded out the top five.
Illinois racer Jon Padilla led all laps to capture his first Stealth Racing IMCA STARS Mod Lite win of the season.
Padilla finished well ahead of Californian Riley Clem, who had to fight back after being involved in a major "no go" start, Josh May took third, fourth went to Jason Toppenberg and Bryan Zehm was fifth.
Calvin Dhondt started fifth and shot to the lead in the IMCA Sunoco Hobby Stock main, only to have his night turn ugly. He went spinning in turns one and two just after the first lap was scored. This brought out a yellow, sending Dhondt to realign at the tail and handing the lead over to Tom Killen Jr.
Killen's lead was short-lived however, as John Watson took over the following lap. Watson never relinquished that top spot the remainder of the race, as he took his ride home to the checkers and the win.
Eric Knutson tried sticking his nose under Watson several times in turns one and two but was never able to make it pay off and had to settle for the runner up spot. Killen held onto third, fourth went to Corey van der Wilt and Luke Ramsey was fifth.
The 15-lap Mach-1 IMCA Sport Compact feature wrapped up the night.
Blake Driscol started fourth and wasted no time in taking the top spot, flying to the lead by lap three. From there on, he drove off from the field, content to let them fight it out behind him.
It would be Mitchell Bunch taking a distant second place. Third went to Terry Bickford, fourth was Cutis Masterson and Kolby Sabin held onto fifth place with an ill-running ride.
30