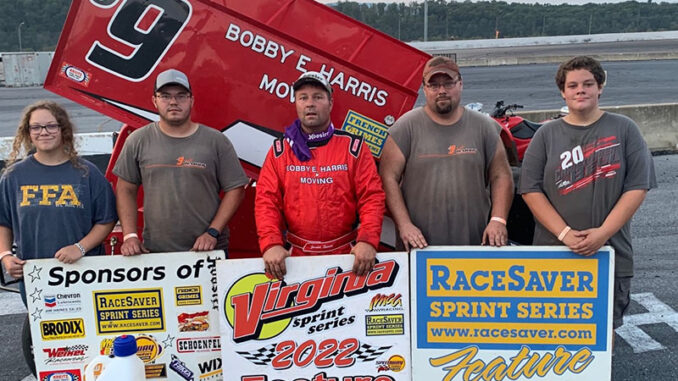 By Jim Haines 
SHENANDOAH, Va. (Sept. 17, 2022) – Jerald Harris made it two Virginia Sprint Series feature wins in a row Saturday night, following his run to the checkers at Natural Bridge Speedway with the Saturday checkers at Shenandoah Speedway.
The feature-only event had Caleb Harris and Bill Rice leading the field to green, with Rice out first and Harris closing in a couple laps while bringing Billy Hubbard along with him.
Rice had a good line and kept them off until lap eight when Jerald Harris went high and made the pass stick.
Hubbard kept working on Rice to make sure Harris didn't get away and got a big run to second as quickly as he could.
Harris and Hubbard were going after the top spot lap after lap but at the cost of tire smoke. Harris used a higher line and Hubbard was trying a low line but with a few laps to go, Hubbard coasted to the infield, done for the night leaving Harris out front and nursing his tires to the end.
Aaron Leach and Matt Mullins had made it to second and third, respectively, but had nothing for Harris as he flashed under the waving checkered flag first.
Leach, Mullins, Mike Leraas and Rice rounded out the top five.