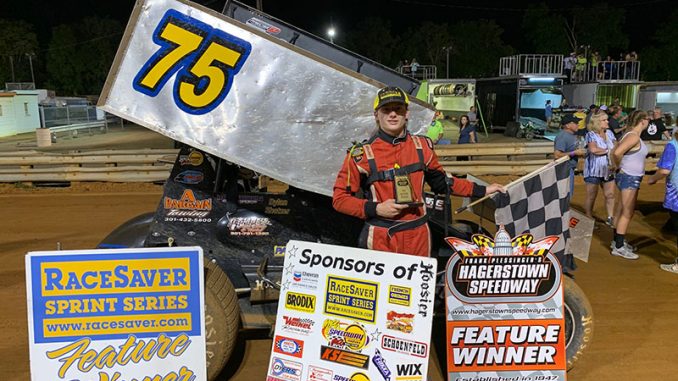 By Jim Haines
HAGERSTOWN, Md. (June 20) – There was threatening weather in the skies overhead but the real thunder was on track as Dylan Shatzer sped to his second Virginia Sprint Series win of the year Saturday at Hagerstown Speedway.
Tom Humphries and Scott Lutz paced the IMCA RaceSaver Sprint Car field to green with Lutz going straight to the bottom and the front.
Shatzer, winner of the June 5 series lidlifter at Dixieland Speedway, had shown he liked the top and went straight to it for the lead on lap one.
Lutz, Tom Humphries and Jerald Harris were on the chase until Humphries broke and coasted to the pits. On the restart, Harris took the high line to second and chased Shatzer with Lutz and Donny Hendershot racing for third.
The laps clicked by but Harris could only get close as Shatzer went under the waving checkered flag for the popular home
Feature results – 1. Dylan Shatzer; 2. Jerald Harris; 3. Scott Lutz; 4. Donny Hendershot; 5. Brad Mellott; 6. Daren Bolac; 7. Reed Thompson; 8. Mike Keeton; 9. Todd Lynn; 10. Bill Rice; 11. Kurt Knepper; 12. Chris Ware; 13. Matt Mullins; 14. Tom Humphries; 15. Mike Leraas.