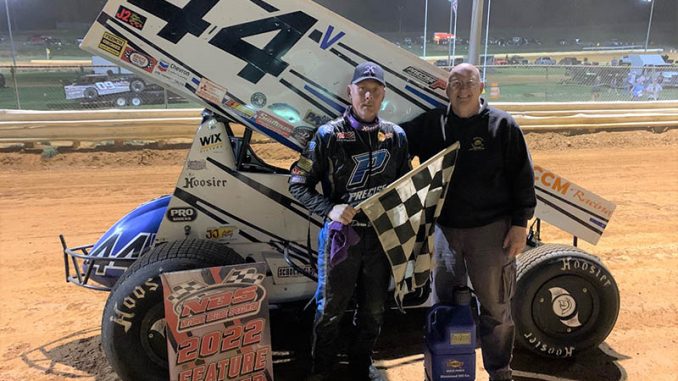 By Jim Haines
NATURAL BRIDGE, Va. (April 16, 2022) – Daren Bolac streaked by the race-long leader with a few laps to go for the Saturday night win in the 2022 season debut for the Virginia Sprint Series at Natural Bridge Speedway.
The feature-only IMCA RaceSaver Sprint Car event had Mike Keeton and Bolac on the front row of the fast banked oval they went green with Keeton out first and Bolac in tow.
After a couple of quick cautions it went back green with the front two unable to get away from the field as Jerald Harris, Joe Leavell and Chris Humblet stayed within striking distance.
Laps clicked off as Leavel got by Harris. The top three were getting very close as lapped traffic was coming up. Keeton was right on a car to put a lap down when Bolac made his move to the bottom and got to the lead.
Keeton moved over to try to regain the lead at the same time Leavel popped over his tire and ending his night. Keeton stayed close for the closing laps but was not to be as Bolac led the rest of the way.
Keeton and Harris completed the top three.
The Virginia Sprint Series will next travel to Hagerstown Speedway for a joint show with the Laurel Highlands Sprint Series on Saturday, April 23.