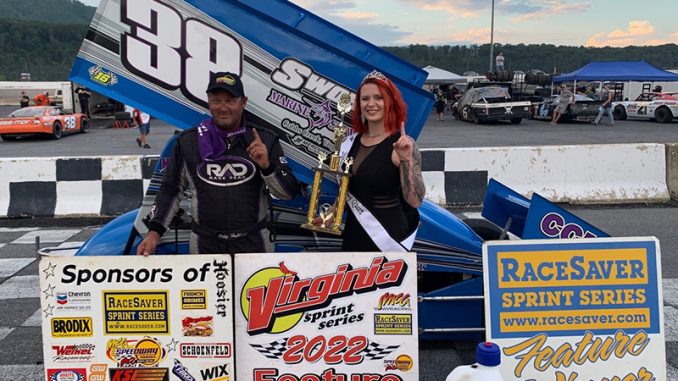 By Jim Haines 
SHENANDOAH, Va. (July 16, 2022) – Drivers had a hot and sunny day at Shenandoah Speedway and Billy Hubbard was the hottest as he went to the front and held off a charge from Matt Mullins for his first Virginia Sprint Series win of the year.
It was a feature-only IMCA RaceSaver Sprint Car Saturday event on the pavement and Chris Ware and Chris Humblet paced the field to green, with Humblet out first up high on the oval.
Hubbard and Jerald Harris quickly joined the fight up front. Hubbard got by, leaving Humblet to Harris as the laps clicked by. Hubbard led as Harris made his way to second as last race winner Mullins made his way toward the front from 10th starting.
Harris was closing as the leader caught the rear of the field but at the same time his handle seemed to be going away. Mullins got by Harris and could see Hubbard not far ahead, but Hubbard had saved enough to hold off a closing Mullins for the win.
Third went to Harris.
Next week it's back to the beach for the final Fast Friday race at Dixieland Speedway in Elizabeth City, N.C. on July 22.